70g DukesHill Colston Basset Stilton
Regular price
£0.00
Sale price
£16.50
Unit price
per
4 DukesHill Steak Burgers
Regular price
Sale price
£19.99
Unit price
per
8 DukesHill Smoked Dry Cured Streaky Bacon Rashers
Regular price
£0.00
Sale price
£7.50
Unit price
per
25g Butter
Regular price
£0.00
Sale price
£7.50
Unit price
per
Dinner
BACON & BLUE CHEESE STEAK BURGER
A wonderful way to create the ultimate steak burger.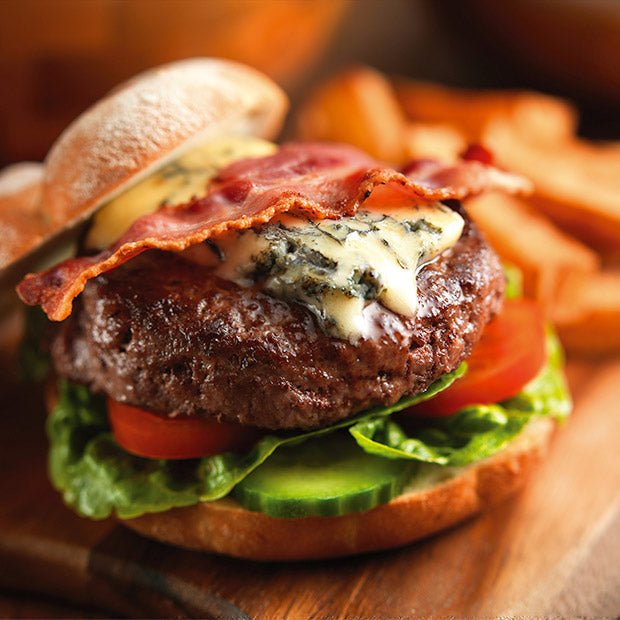 Directions
Step 1 Melt the butter in a pan then mix in the plain flour until it thickens.
Step 2 Slowly add the milk, stirring as you go until you have a thick creamy sauce. You can stop adding the milk if the consistency is already to your liking or you can add more if you would prefer a runnier sauce. (This blue cheese sauce also works well drizzled on steaks or with chicken and salads)
Step 3 Once you have the roux to your liking, you can crumble in the stilton and stir to combine.
Step 4 Preheat a frying pan over a high heat with a drizzle of oil.
Step 5 Place the bacon rashers in the hot pan and fry for 4-5 minutes until nice and crispy, turning them over halfway. Keep this pan ready for the burgers once you have put the bacon to the side.
Step 6 Brush each burger with a little oil and place in the bacon pan over a high heat. Do not turn the burger until it has naturally released from the pan or grill after around 4 minutes, (too much handling of the meat can make it dry and split).
Step 7 Flip the burger and cook on the other side until when pressed with a spatula the juices are running light pink or clear in colour, this should be around 3 minutes.
Step 8 Press the bottom burger bun into the pan to soak up the bacon and burger juices then place sliced tomatoes and lettuce on the bun.
Step 9 The steak burger can then go over the vegetable garnishes ready to pour the stilton sauce and place the bacon on top of the steak burgers to serve.