125g bacon, chopped
Regular price
£0.00
Sale price
£7.50
Unit price
per
1 tsp rosemary leaves, finely chopped
100g butter, cut into small pieces
150g cheddar cheese, grated
1 egg, beaten for brushing
Breakfast
BACON, CHEESE & HERB SCONES
A cheese scone takes some beating, but these beauties were inspired by our Porchetta where the combination of fennel and rosemary add a whole extra dimension. Why not add those ingredients using our bacon to a basic cheese scone? The result is heaven.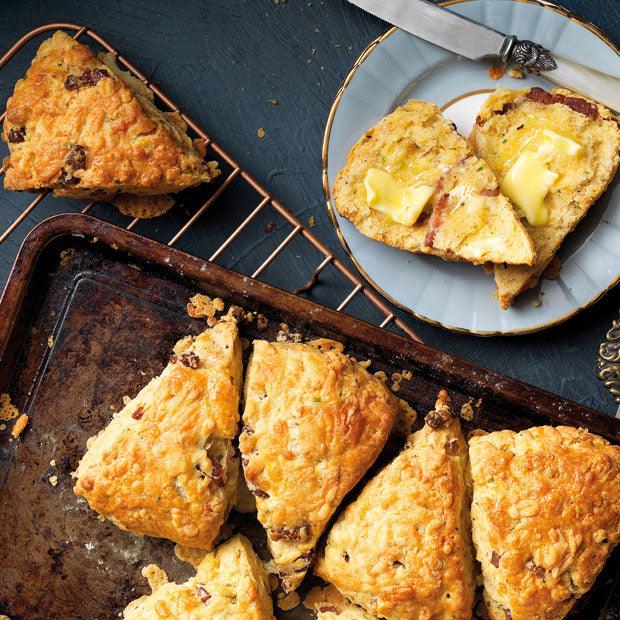 Directions
Step 1 Pre heat oven to 220'c/200'C fan/gas mark 7.
Step 2 Dry fry the bacon in a pan over a medium heat until crispy, about 5 minutes. Set aside.
Step 3 In a bowl mix the flour, salt, fennel seeds and mustard powder together.
Step 4 Rub the butter into the flour mixture with your fingertips until like fine breadcrumbs.
Step 5 Add 130g grated cheese, chives and bacon and stir through evenly.
Step 6 Pour in the milk and egg and mix until the dough comes away from the sides of the bowl. Try not to overwork the dough.
Step 7 Tip onto a floured surface and form the dough mixture into a 7" circle. Using a knife cut the cake into eight wedges about 2 cm thick. Transfer carefully to a greased baking tray.
Step 8 Brush the tops with beaten egg and sprinkle with the remaining cheese.
Step 9 Bake for 15 minutes until golden.