300g pack Dukeshill smoked back bacon (unsmoked will do too)
Regular price
£0.00
Sale price
£7.50
Unit price
per
small handful of sage leaves, chopped
100g cheddar cheese, grated
3 sprigs thyme, leaves removed
1 sprig rosemary, leaves removed and chopped finely
Breakfast
BACON, CHEESE & ONION MUFFINS
These savoury bacon, cheese & onion muffins are delicious served split, fresh from the oven and smothered in butter.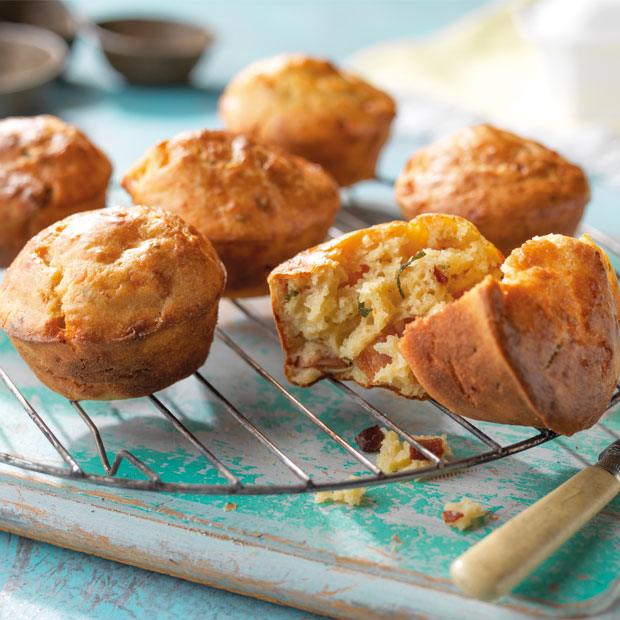 Directions
Step 1 Cook the bacon for 10 mins at 220'C/200'C fan until crispy. Allow to cool. Reduce oven temperature to 180'C/160'C fan.
Step 2 Melt the butter in a pan over a gentle heat and gently sauté the onion and sage for approximately 5-7 mins or until the onion is translucent and soft.
Step 3 In a bowl mix the flour, baking powder, salt, cheese, rosemary and thyme.
Step 4 Break the bacon into small pieces (5mm) and add to the bowl along with the sage and onion.
Step 5 Mix together the milk and eggs and add to the bowl. Mix thoroughly.
Step 6 Put a small blob of butter in the bottom of each muffin pocket and place the tin in the oven for 1 min to melt the butter, then spoon large spoonfuls of the mixture into each pocket.
Step 7 Bake in a pre-heated oven at 180'C/160'C fan for 25 minutes.
Step 8 Remove from oven, allow to cool on a wire tray for 5 mins then serve straightaway with lashings of butter!