200g dry cured bacon, chopped
Regular price
£0.00
Sale price
£7.50
Unit price
per
450g pumpkin or squash, peeled and cut into 1" chunks
300g risotto rice (Carnaroli or Arborio)
Lunch
BACON, PUMPKIN & SAGE RISOTTO
The inspiration behind this Bacon, Pumpkin & Sage Risotto is the abundance of pumpkins and squash at this time of year. This warming, gutsy dish made with our bacon is a wonderful way of using them to create a deeply satisfying meal.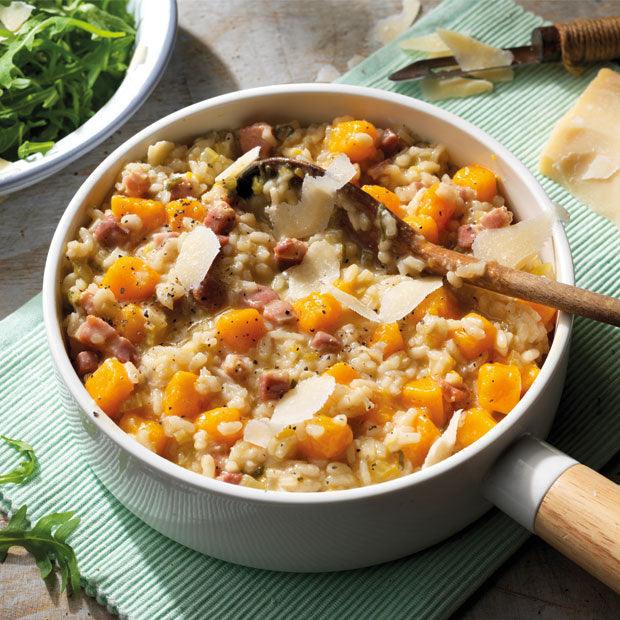 Directions
Step 1 Cook the pumpkin in boiling water for 8 minutes in a heavy based pan, then drain and put the pumpkin to one side.
Step 2 Melt the half the butter and the olive oil in the same heavy based pan and gently fry the onion, celery and bacon for 5 mins. Add the garlic and cook for a further 2 mins. Turn up the heat and add the rice, stirring for a few minutes.
Step 3 Pour in the wine and bring to a simmer for a few minutes. Return the pumpkin to the pan, stir in the sage and add the stock a ladle at a time. Stir constantly for about 15 minutes until all the stock has been added.
Step 4 Season and stir in half the Parmesan and the remaining butter.
Step 5 Remove from the heat and cover the pan. Allow the risotto to rest for 15 mins during which time the risotto becomes even creamier in consistency. Serve with the remaining Parmesan.