8 rashers bacon, 4 chopped and 4 left whole (streaky or back will do)
Regular price
£0.00
Sale price
£7.50
Unit price
per
1 butternut squash, peeled and diced into 1" chunks
2 sprigs thyme, leaves removed
freshly ground black pepper
Dinner
BACON & SQUASH SOUP
I am a soup dragon! Rarely a week goes by without me consuming soup in some form. Usually, it's made using leftovers but occasionally I like to treat myself to a more extravagant version such as this Bacon & Squash Soup. Perfect for lunch with friends.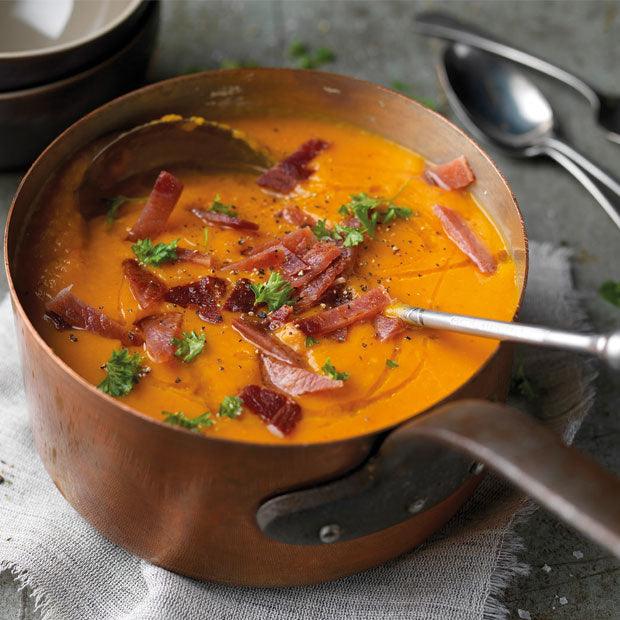 Directions
Step 1 Pre heat the oven to 200'C/180'C fan.
Step 2 Put the squash, red pepper, onion, chopped bacon, thyme leaves and garlic in a roasting dish and toss in the olive oil. Roast in the oven for approx. 45-50 minutes until the squash is cooked through, stirring half way through.
Step 3 Once roasted transfer to a saucepan.
Step 4 Meanwhile return the roasting dish to the oven with the 4 remaining rashers and cook for approx. 10 mins until the rashers are crispy.
Step 5 Add the vegetable stock to the saucepan and bring to the boil then remove from the heat and blend the soup until smooth. Season to taste.
Step 6 Serve in bowls topped with the crispy bacon broken into pieces.