500g beef fillet, diced into 2.5cm cubes
Regular price
Sale price
£19.99
Unit price
per
500g potatoes (Maris Piper) sliced approximately 4mm thick
2 tsp Meaux mustard (or any wholegrain mustard)
Dinner
BEEF RYDBERG A LA SARAH
Beef Rydberg is a classic Swedish dish using tender beef and a mustard sauce with sautéed potatoes and onions. Most variations on this require you to cook everything separately but in my version I've merged the potato, onion and mustard sauce elements to create a Swedish style dauphinoise! A great and easy way to use beef tail fillet to create a luxurious meal.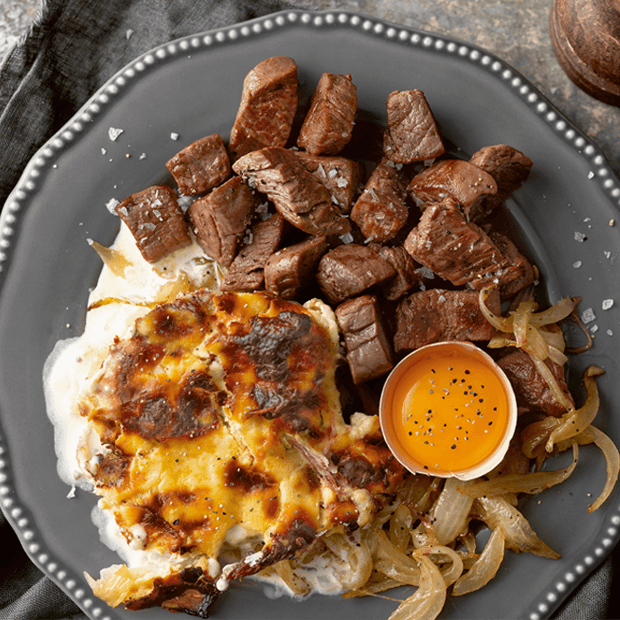 Directions
Step 1 Pre heat oven to 190′C/ fan 170′C.
Step 2 Melt the butter in a frying pan and gently sauté the onions for 10 mins until soft. Place in the bottom of a buttered gratin dish.
Step 3 Meanwhile peel and slice the potatoes and put in salted, boiling water for 5 mins over a high heat. Drain and empty over the onions. Don't worry about how they look just shake the gratin dish to spread them evenly around the dish.
Step 4 Meanwhile mix the double cream, mustards and seasoning in a bowl. Pour over the potatoes and onions.
Step 5 Pop into the oven uncovered for 40 minutes until golden and bubbling.
Step 6 Heat the oil in the frying pan over a high heat then sear the diced beef fillet for two minutes on one side. Turn and repeat. Remove from the heat and season to taste.
Step 7 Serve the meat alongside big spoonful's of the gratin and a raw egg yolk in its shell.