8 rashers of DukesHill Smoked Streaky Bacon 
Regular price
£0.00
Sale price
£7.50
Unit price
per
200g DukesHill Black Pudding  
Regular price
£0.00
Sale price
£5.50
Unit price
per
½ red onion, very finely sliced 
Dinner
BLACK PUDDING ROSTI WITH POACHED EGG AND CRISPY SRIRACHA BACON
Indulge in an exquisite brunch concept that elevates the essence of a time-honored breakfast tradition.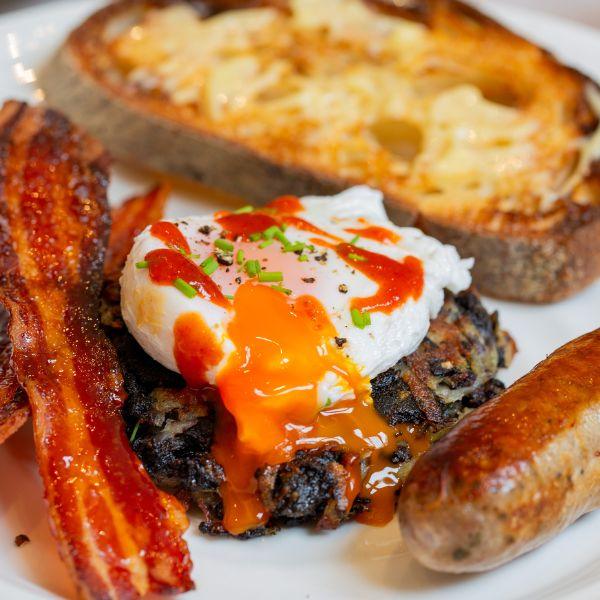 Directions
Step 1 Preheat oven to 180°c fan
Step 2 Line a baking tray with baking parchment and lay out the bacon without overlapping. Bake for 15 minutes, then tip off excess fat.
Step 3 Meanwhile, mix the maple syrup, sriracha and soy sauce; once part cooked, brush the bacon generously with the sauce, then return to the oven for 6 minutes, or until golden brown and crisp. Remove from oven.
Step 4 Boil the unpeeled potatoes for 8 minutes, then allow to cool enough to handle. Peel them and grate using your coarsest grater. Combine the grated potato with the onion, thyme, and then crumble in the black pudding into smallish chunks with a generous amount of seasoning.
Step 5 Mix well and form into round patties. Shallow fry these gently in the oil and butter until golden brown on both sides. It helps to then transfer the rosti to the oven to allow the edges to crisp up for a few minutes.
Step 6 Place each rosti on a plate, top with a soft-poached egg, a grating of black pepper, some snipped chives and a drizzle of sriracha. Serve with the crispy bacon and any other breakfast favourites.