210g cooked chicken (or turkey), roughly chopped
Regular price
£0.00
Sale price
£12.50
Unit price
per
180g cooking chorizo, skinned and roughly chopped into 1cm cubes
1 red onion, finely sliced
Dinner
CHICKEN & CHORIZO PIE
Not much beats a comforting classic Chicken & Ham Pie or variations of, but this Chicken & Chorizo Pie made using our chicken or turkey, sherry and peppers is so tasty. Guaranteed to warm you up.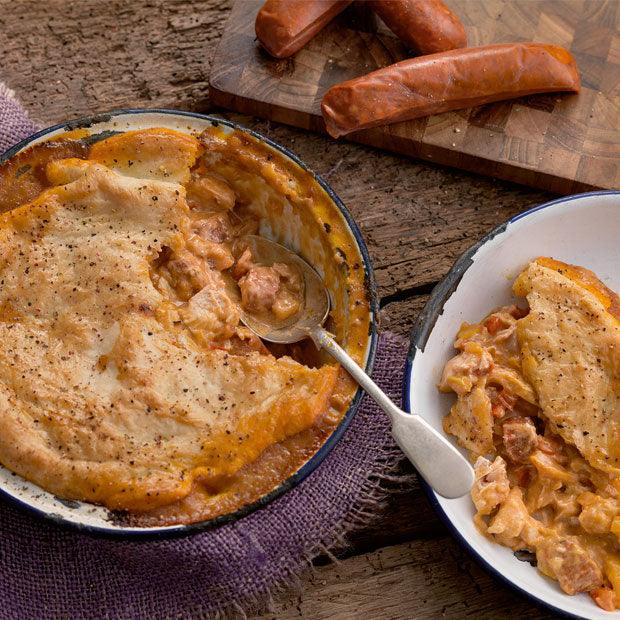 Directions
Step 1 Melt the butter in a heavy based saucepan over a low heat and sauté the onion and peppers for 5 minutes. Add the garlic and cook for another 5 mins.
Step 2 Add the flour to the pan to soak up all the butter and coat the vegetables. Cook for a further minute.
Step 3 Pour in the sherry and allow to bubble for a minute then add the stock. Allow to come to a gentle simmer and for the sauce to thicken. Take off the heat and stir in the crème fraiche.
Step 4 Dry fry the chopped chorizo in a pan over a medium high heat until browned and crispy, about 3-5mins.
Step 5 Stir the chopped cooked chicken and chorizo through the sauce and season to taste, (although I find it doesn't need any seasoning) and transfer to a buttered pie dish.
Step 6 To make the pastry break up the butter into the flour and gently rub between your fingers until well dispersed. Add the water a little at a time until the dough comes together.
Step 7 Roll out to cover the pie dish and pinch the edge to seal the pastry round the edge of the dish.
Step 8 Brush with beaten egg and milk and cut several slits to allow the steam to escape during baking.
Step 9 Bake in a pre-heated oven at 180'C for 35 minutes.