2 DukesHill Free Range chicken Legs
100g Stilton
Regular price
£0.00
Sale price
£16.50
Unit price
per
2 garlic cloves, roughly chopped
1 tbsp, fresh thyme leaves
Dinner
CHICKEN LEGS IN A STILTON & LEEK SAUCE
This recipe is so incredibly easy to make as it can all be bunged in the oven, however, with the rich flavours coming through from the Stilton it tastes so decadent. Simply serve with some mashed potato and some greens.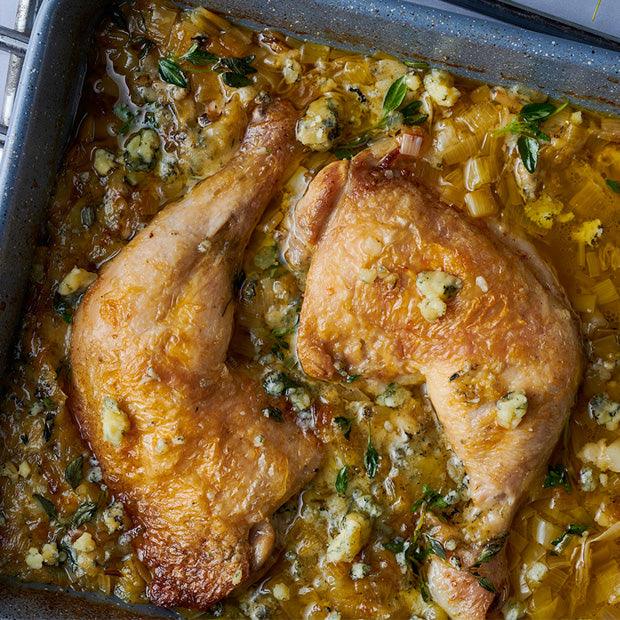 Directions
Step 1 Preheat oven to 160 fan.
Step 2 Heat an oven proof, deep frying pan over a medium-high heat with 1tbsp olive oil.
Step 3 Once the pan is hot place the chicken legs skin side down for about 3-4 minutes or until the skin has become golden.
Step 4 Remove the chicken from the pan and set aside. Add the leeks to the pan and lower the heat.
Step 5 Cook gently until the leeks begin to wilt and brown slightly. Add more olive oil if they are sticking to the pan. Add the garlic.
Step 6 Place the chicken legs back into the frying pan, skin side up.
Step 7 Pour the stock into the pan until it gets near the top of the chicken. You want the crisp skin to still be exposed.
Step 8 Crumble in the Stilton and thyme and cover with a lid. Place in oven for 30 minutes.
Step 9 Remove the lid form the pan after 20 minutes.
Step 10 Serve on a bed of creamy mash and some greens.