1 x 650g pack Chinese Five Spice Pulled Pork
Regular price
Sale price
£19.99
Unit price
per
½ cucumber, cut into fine strips
4 spring onions, finely shredded
16 pre-made pancakes (depending on whether allowing for 3 or 4 per person)
1 little Gem lettuce, leaves removed
8 radish, sliced thinly into strips
4 spring onions, sliced thinly
Starter
CHINESE PULLED PORK PLATTER
It happens to be the Chinese "Year of the Pig" so to celebrate this Chinese Pulled Pork Platter is my version of the wonderful Crispy Duck Pancakes and Lettuce Dumplings you find in most Chinese restaurants. A sharing platter is a great way of entertaining and this is so easy to throw together.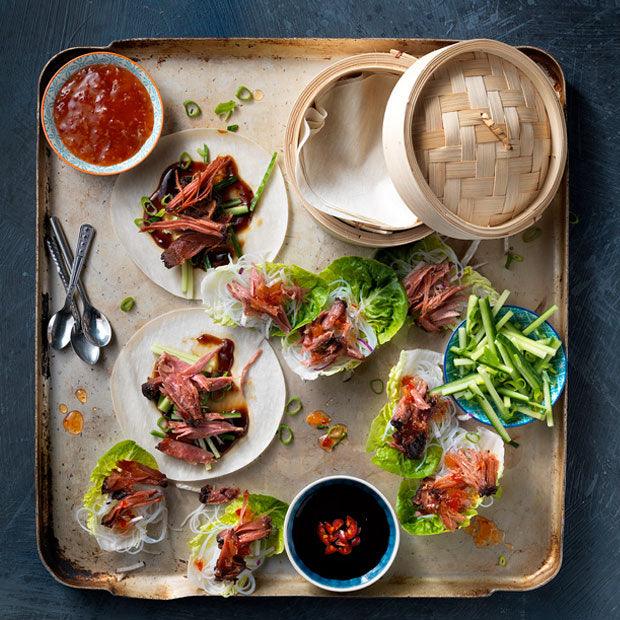 Directions
Step 1 When ready to eat cook the Chinese Five Spice Pulled Pork by placing in a foil lined baking tray or dish and placing in a pre-heated oven at 200'C/180'C fan for 20-25 minutes. Remove from the oven and transfer the piece of pulled pork from its juices. Use two forks to shred all the meat and keep warm.
Step 2 Meanwhile cook the rice noodles according to the pack instructions then drain.
Step 3 Heat the pre-made pancakes according to the instructions by placing in a steamer or microwave.
Step 4 Take a pancake, drop a teaspoon of hoisin sauce on to it and spread around. Place some shredded pulled pork, a bit of spring onion, a little cucumber on top, then roll it up.
Step 5 Take each lettuce leaf and drop a small spoonful of cooked rice noodles into each. Top with some shredded pulled pork, radishes and spring onions and drizzle a little sweet chilli sauce over the top.