200g DukesHill Smoked Dry Cured Back Bacon
Regular price
£0.00
Sale price
£7.50
Unit price
per
1 x Jar Cranberry Sauce with Port
1 x DukesHill P'tit Valley
Fresh Rosemary to garnish
Canape
CRANBERRY, BACON AND P'TIT VALLEY SHARING WREATH
The festive season is all about spending time with loved ones, and if sharing is caring, then this wreath is perfect!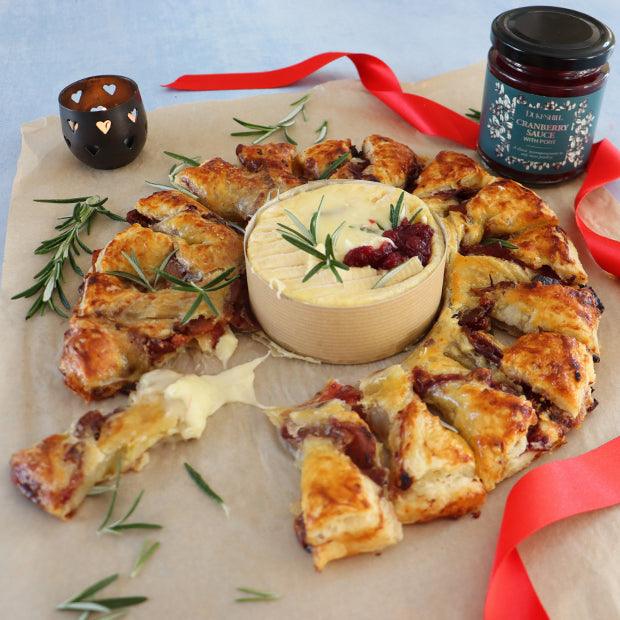 Directions
Step 1 Pre-heat the oven to 190 degrees (fan).
Step 2 Roll out your pastry until about half a centimetre thick and using a circular cake tray or saucepan to trace around, cut out two circles. The two circles should be about 30-35cm in diameter.
Step 3 Using the P'tit Valley, cut out a hole in the centre of each circle. You can use these off-cuts to make mini parcels.
Step 4 Place one of the pastry circles onto a baking tray and spread with a layer of cranberry sauce, making sure to leave about 1cm of space from the outside edge.
Step 5 Dice the bacon into small pieces, about 2cm x 2cm and distribute them equally on top of the cranberry sauce before placing the second pastry circle on top to cover.
Step 6 Gently run your fingers around the edge of the pastry circle, pressing the edges together.
Step 7 With a knife, make 12 incisions into the circle, making sure to only cut 2/3 of the way towards the centre. Space each cut out as if the circle were a clock face.
Step 8 Carefully twist the cuts in the pastry in alternating directions to form something that resembles a snowflake or wreath.
Step 9 Brush with the egg yolk and then pop into the oven for 20 minutes.
Step 10 Remove from the oven and add the P'tit Valley into the centre of the wreath and return to the oven for 10 more minutes. Remove once the pastry is golden and flaky and the P'tit Valley has melted inside.
Step 11 Garnish with rosemary and the remaining cranberry and port sauce.