1kg uncooked boneless Wiltshire (cut a half uncooked boneless in half)
Regular price
£0.00
Sale price
£58.00
Unit price
per
1 small onion, peeled and studded with 8 whole cloves
400g yellow split peas, rinsed and drained
2 large carrots, peeled and sliced into 1cm slices
1 onion, peeled and diced small
freshly ground black pepper
Mustard and Shallot Sauce
3 echalion shallots, peeled and finely chopped
1tsp English mustard powder
Dinner
GAMMON WITH PEASE PUDDING AND MUSTARD & SHALLOT SAUCE
This gammon with pease pudding and mustard & shallot sauce recipe is my take on a classic pease pudding made using yellow split peas. Served alongside our gammon it is comfort food at its best, however the addition of the mustard and shallot sauce elevates it to a dish worthy of any social gathering. I highly recommend it!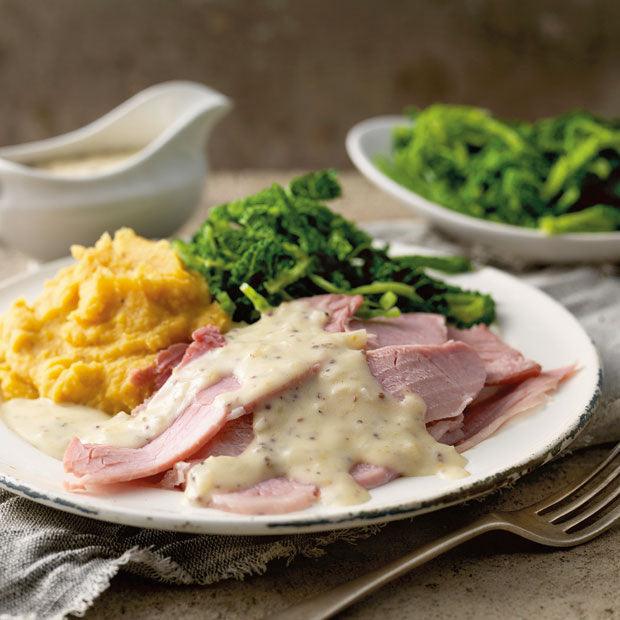 Directions
Step 1 Pre heat the ovCook the gammon/ham joint in a pan with the clove studded onion, bay leaves, carrot and peppercorns and enough water to cover it all. Bring to a gentle simmer and cook very gently for 1 hr 15 mins (or according to the cooking guidelines for the weight if using a different sized joint).
Step 2 When cooked remove to a warm plate, cover with foil and let it rest. Keep the stock for soups.
Step 3 Meanwhile put the yellow split peas, carrot, onion, celery, bay leaves and water in a saucepan and bring to a gentle simmer over a low heat for 45 mins. Top up with water if need be during the cooking time.
Step 4 Remove from the heat and discard the bay leaves. Stir in the seasoning and butter.
Step 5 Puree using a hand blender or food processor and transfer to a warmed serving dish.
Step 6 For the mustard & shallot sauce melt the butter in a saucepan and add the finely chopped shallots. Cook over a very low heat for 10-15 minutes until they start to colour.
Step 7 Stir in the flour and mustard powder and cook for 1 min.
Step 8 Add the milk, stirring continuously until the sauce has thickened slightly. Add the Meaux mustard and seasoning to taste.
Step 9 Carve slices and serve with a big dollop of the pease pudding on the side and the mustard sauce poured over the slices. This needs no other accompaniments other than some Savoy cabbage. Enjoy!