150g Comté
Regular price
£0.00
Sale price
£9.50
Unit price
per
300g ham
Regular price
£0.00
Sale price
£46.00
Unit price
per
400g bread, crusty white or sourdough
Dinner
HAM & CHEESE PUDDING
This savoury version of a bread and butter pudding is hard to beat. My Ham& Cheese Pudding is sheer decadence and joyful comfort on a plate and makes a lovely family supper. Simply serve with a baby leaf and tomato salad.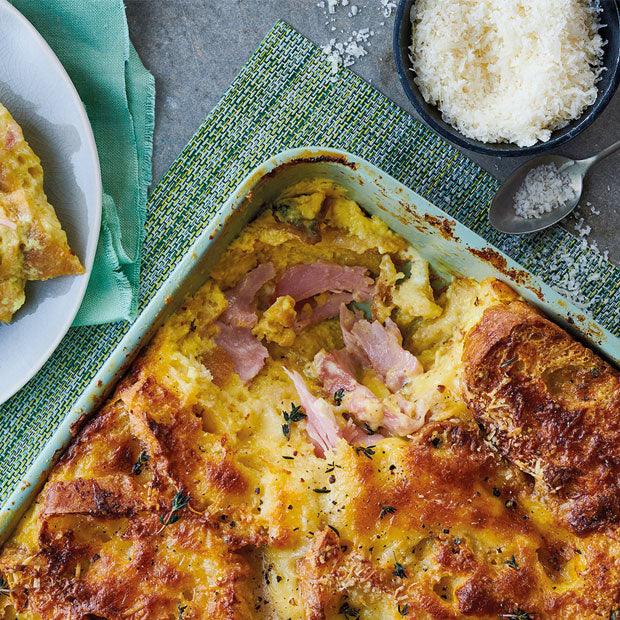 Directions
Step 1 You will also need a baking dish measuring approximately 20x24cm, lightly buttered.
Step 2 Pre-heat the oven to 200C/180'C fan/gas mark 6. Cut the bread into 1cm thick slices, leaving the crusts on. Toast on a low setting, until lightly crisp.
Step 3 Spread the toast generously with the butter. Cut the Comté into 1cm thick slices. Tear the ham into large bite-sized pieces. Pull the thyme leaves from their stems.
Step 4 Place a single layer of the buttered bread on the bottom of the dish, tucking the slices together snugly. Place some of the cheese slices and ham on top, add a little black pepper, some thyme leaves then another layer of buttered bread and more of the cheese slices and ham. Continue until the ingredients are used up finishing with a bread layer.
Step 5 In a mixing bowl, add 50g grated Parmesan, egg yolks, nutmeg then mix in the double cream and milk with a fork or small whisk. Season with a little salt then pour over the bread letting it trickle down through the layers. Grate the remaining 50g Parmesan over the surface.
Step 6 Cover the top of the dish with foil and bake for 35 minutes. Remove the foil and continue baking for a further 10 minutes until the top is golden. Remove from the oven and leave to settle for 10 minutes before serving.