150g Comté
Regular price
£0.00
Sale price
£9.50
Unit price
per
400g ham, thick-cut from a hock or sliced ham, roughly chopped
Regular price
£0.00
Sale price
£4.50
Unit price
per
450g cooked chicken (or turkey) cut in large chunks
Regular price
Sale price
£19.99
Unit price
per
250g Portobello mushrooms, sliced
20g tarragon leaves, chopped
½ tsp salt & freshly ground pepper
Dinner
HAM & CHICKEN GRATIN
I love gratins and this one is no exception. So easy to make and perfect for using up any leftover ham, chicken or turkey. Another family friendly dish and perfect for entertaining too. Just serve with a green salad or steamed seasonal vegetables.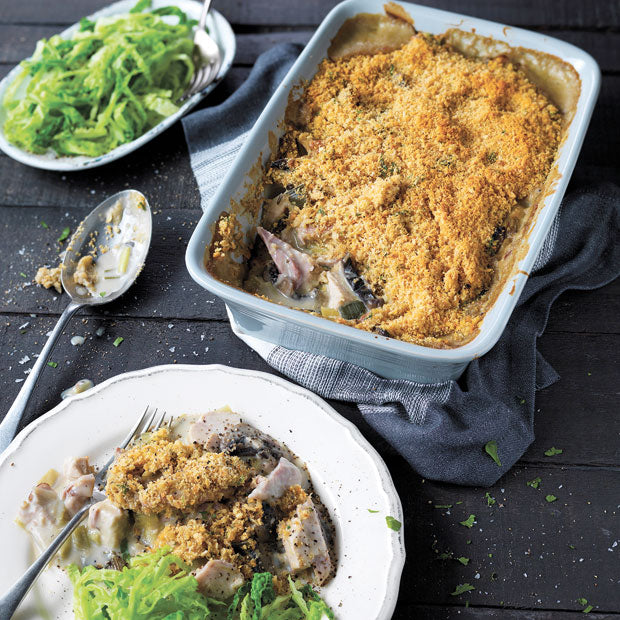 Directions
Step 1 Heat oven to 190'C/170'C fan/gas mark 5.
Step 2 Grease an ovenproof dish and place the chunks of chicken and ham evenly over the base.
Step 3 Heat the butter in a pan over a low to medium heat and sauté the leeks and mushroom for 5 minutes until softened.
Step 4 Stir through the flour and cook for 1 minute.
Step 5 Pour in the wine and stock, stirring until smooth. Cook for 1 min then stir in cream, tarragon and mustard.
Step 6 Season to taste, then pour over the ham and turkey.
Step 7 Whizz the bread in a processor with the parsley and oil to create the oily breadcrumbs and scatter over the dish.
Step 8 Bake for 25 to 30 mins until bubbling and golden and serve with salads or green vegetables.