150g Dukeshill ham (or ham hock) chopped
Regular price
£0.00
Sale price
£4.50
Unit price
per
60g cheddar grated
Regular price
Sale price
£19.99
Unit price
per
400g potatoes (such as King Edwards, Desiree, Maris Piper) peeled and cut into chunks
200g shredded Savoy cabbage
1/2tsp English mustard powder
plain flour to dust cakes
Lunch
HAM HASH CAKES
These tasty Ham Hash Cakes came about due to my frustration at not being able to get decent savoury cakes. I so often find shop bought savoury cakes or those proffered in some restaurants, whether it's a fish cake or hash cake, slightly disappointing. Sadly, with the tendency to make maximum profit they are crammed full of potato with very little else registering on the palate. My Grandfather taught me "If you're going to do a job, do it well" and so with that in mind I hope you enjoy these ham hash cakes with a lovely balance of ham (or ham hock), cabbage, caraway seed, cheese and mash. Great with a dollop of Susie's Chilli Jelly too.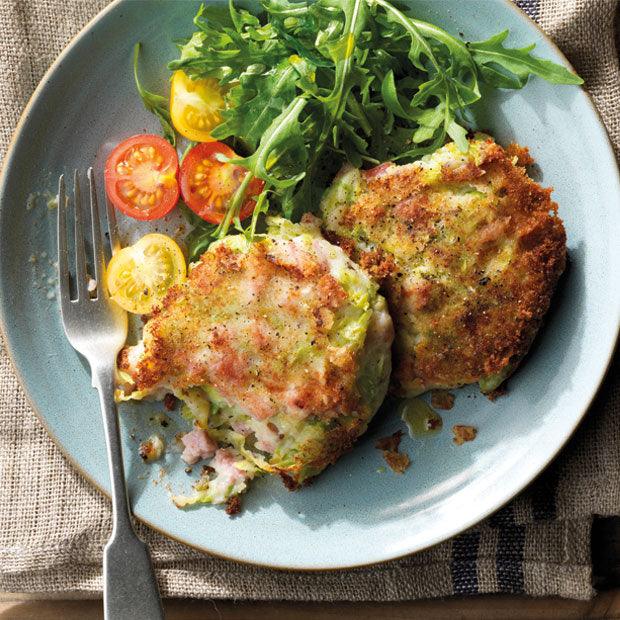 Directions
Step 1 First prepare the mash part by boiling the potato for 15 minutes. Drain, add 25g of the butter, seasoning, milk and mash well until smooth. Put to the side to allow to cool whilst you prepare the cabbage.
Step 2 Melt the remaining 15g butter in a pan and add the finely shredded cabbage and Caraway seeds. Cook over a low heat until the cabbage wilts, about 10 minutes.
Step 3 Mix the wilted cabbage, mash, mustard powder, ham and grated cheddar together. Form into four cakes using a light dusting of flour to coat them. Press them flat.
Step 4 Heat a splash of vegetable oil in a frying pan and fry gently for 5 minutes on each side until golden brown.
Step 5 Serve with a side salad and a dollop of Susie's Chilli Jelly.