1 x Dukeshill ham hock (or 300g cooked ham) skin removed, stripped and shredded
Regular price
£0.00
Sale price
£4.50
Unit price
per
1 small red chilli, deseeded and diced finely
1 celeriac, peeled and finely sliced or grated
3 medium potatoes, peeled and finely sliced
200g Comté cheese, grated (can use Gruyère)
Dinner
HAM HOCK, CELERIAC & POTATO GRATIN
My ham hock, celeriac & potato gratin is a family favourite. Celeriac is a wonderful vegetable and here I've used it in my twist on a classic potato dauphinoise incorporating ham, chilli and Comté cheese. Just serve with a tomato salad. You can either use a ham hock (which will give you approximately 400g ham after skinning and removing from the bone), or any leftover ham.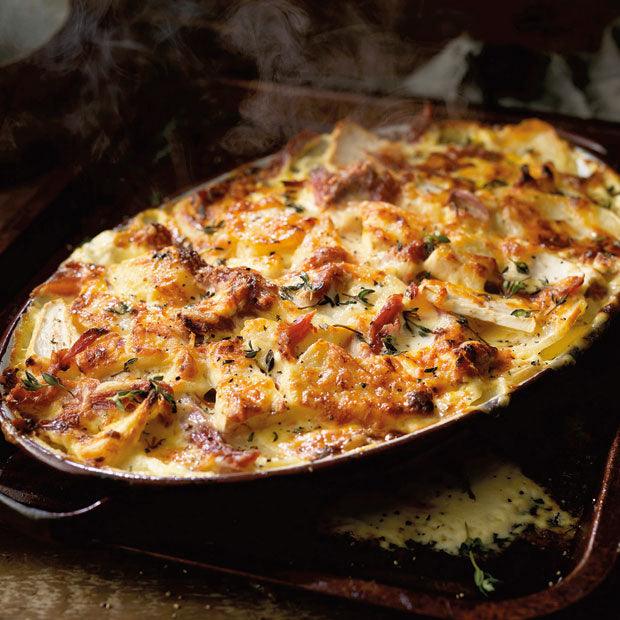 Directions
Step 1 Mix the cream, milk, garlic, chilli and mustard together and bring to a gentle simmer then set aside.
Step 2 Stir in 100g of Comté cheese.
Step 3 Take the hock out of its packaging, remove the skin and tear the meat into shreds.
Step 4 Grease an ovenproof dish and layer with a splash of the cheese sauce, celeriac, ham hock, potato and seasoning repeating until finished with a layer of potato.
Step 5 Pour over the rest of the cheesy cream mixture.
Step 6 Top with the remaining 100g grated cheese and bake in the oven for 1 hour at 180'C fan.