300g ham or ham hock meat, torn or chopped into bite size pieces
Regular price
£0.00
Sale price
£78.00
Unit price
per
140g Comte cheese, grated
Regular price
£0.00
Sale price
£9.50
Unit price
per
400g potato, peeled and sliced thickly 3-4mm
½ tsp salt (reduce to ¼ tsp if using York or Shropshire Black ham)
freshly ground black pepper
8 sage leaves, finely chopped
a generous grating of nutmeg
Dinner
HAM, SAGE & POTATO GRATIN
This Ham Sage & Potato Gratin is comfort food at its best. A lovely way to use up any leftover ham or ham hock meat. A perennial favourite in our family. I like to think of it as an English version of a French Tartiflette – creamy potatoes with ham and lots of Comté cheese – what's not to like!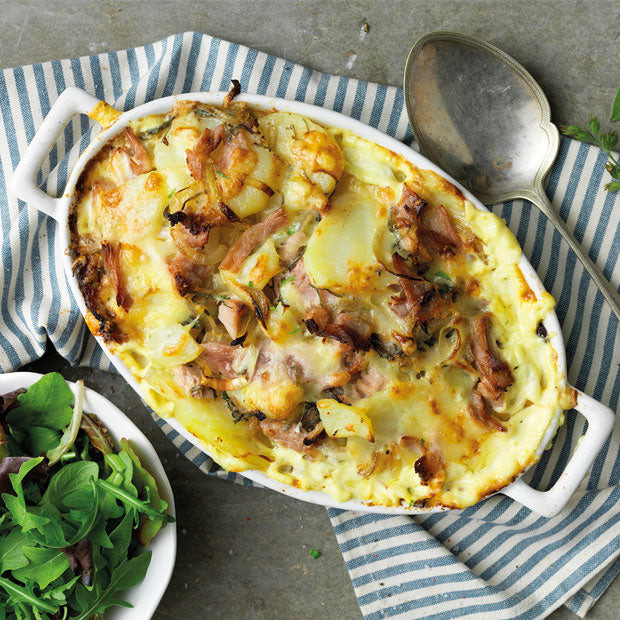 Directions
Step 1 Pre heat the oven to 200'C/180'C fan.
Step 2 Remove the ham hock and leave to cool for a few minutes before removing the skin, shredding and adding to the soup. Alternatively whizz the soup before returning the shredded ham hock to the saucepan.
Step 3 Meanwhile bring a pan of salted water to the boil and par boil the potato slices for 5-7 minutes. Drain.
Step 4 Butter a gratin/baking dish and put the onions in the bottom, followed by the ham and then the par boiled potato. No need to arrange the potato slices, just lob them in.
Step 5 In a jug mix the cream with the sage leaves, Comté cheese, nutmeg and seasoning and pour over the dish.
Step 6 Pop in the oven for 25 minutes until golden and bubbling.