2 – 2 ½ kg leg of lamb on the bone
Regular price
Sale price
£19.99
Unit price
per
½ tsp dried Provencal herbs (or 1 thyme sprig)
1 ½ kg large potatoes (Maris Piper work well), peeled and cut into thick wedges
1 red onion, peeled and quartered
1 whole garlic bulb, separate into cloves but keep skin on
3 peeled garlic cloves, crushed
freshly ground black pepper
Dinner
MEDITERRANEAN LAMB
This Mediterranean Lamb is my version of a Greek Kleftiko. It's a tasty one pot meal to make using our British leg of lamb and leaves you plenty of time to spend walking the dogs or having fun with your friends and family whilst it cooks. Although with the wonderful smells you'll struggle to get the dogs to leave the kitchen! Even better there is only one tin or pot to wash at the end. Any leftover lamb is delicious served in flatbreads with a red onion salad and tzatziki or hummus. The leftover tomato confit olive oil is delicious used for salad dressing or for cooking. Make sure you use our highest welfare British lamb guaranteed from animals that are stunned.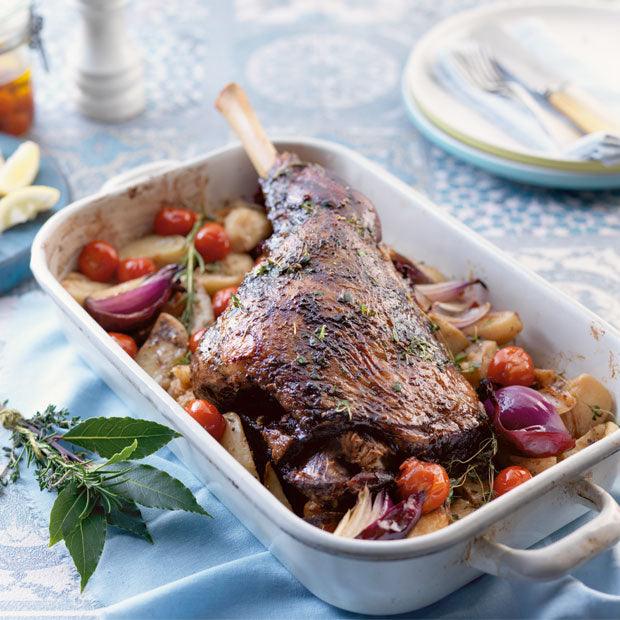 Directions
Step 1 Pre-heat the oven to 190°C/170'C fan.
Step 2 Start by making the tomato confit.
Step 3 Heat the olive oil in a saucepan over a medium heat for 2 minutes, then lower the heat to its lowest setting and add the herbs, tomatoes and garlic clove and shake the pan to mix it all. Turn the heat off as soon as the tomatoes start to split, approximately 8 mins.
Step 4 Remove at once from the heat and transfer to a Pyrex bowl or jug and allow to cool.
Step 5 Mix 30ml of the tomato confit olive oil with ½ tsp salt, crushed garlic and dried oregano to form a paste and rub over the lamb.
Step 6 Put the potatoes, red onion, rosemary, thyme, bay leaf and unpeeled garlic cloves in the bottom of a roasting tin or a large lidded casserole pot and season with the remaining 1 tsp salt and some freshly ground pepper. Pour over the lemon juice and 40ml tomato confit olive oil. Place the leg of lamb on top of the vegetables and pour the water round the side of the lamb. Cover tightly with a tent of foil.
Step 7 Cook in the oven for 2½ – 3 hours until the meat is falling off the bone, adding a little more water, if necessary, halfway through to keep the vegetables moist.
Step 8 Remove the foil (or lid), pop the confit tomatoes around the lamb, and baste with the juices in the tin. Return to the oven for 15 more minutes uncovered to warm the tomatoes through.
Step 9 Serve the meat in chunks or thick slices with the vegetables and juices.