1 x 2-2.5kg leg of lamb on the bone
Regular price
Sale price
£19.99
Unit price
per
30g fresh parsley, stalks discarded
30g fresh coriander, stalks discarded
1 red chilli, seeds removed
freshly ground black pepper
10g fresh mint leaves, chopped
Dinner
NORTH AFRICAN ROAST LEG OF LAMB WITH GIANT COUSCOUS
I absolutely love British home grown lamb and especially our highest welfare lamb. This is a delicious way of cooking it, not dissimilar to a Middle Eastern Lamb Shawarma dish. Also delicious served with a fresh tomato and cucumber salad, flatbreads and a dollop of Susie's Chilli Jelly.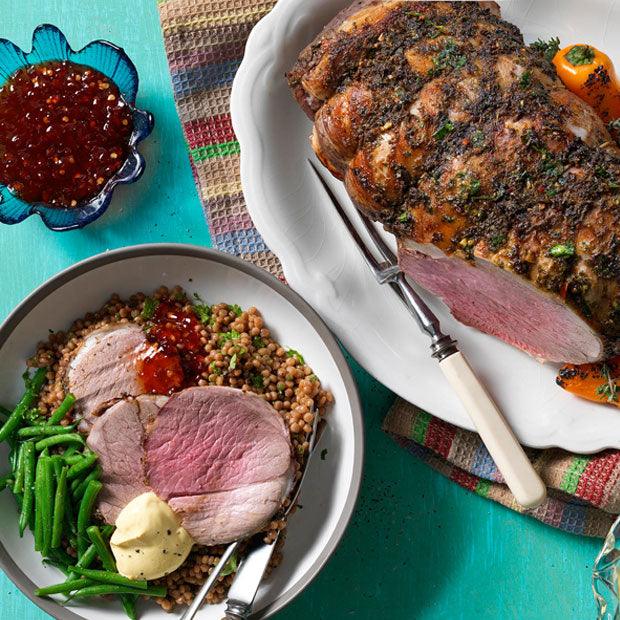 Directions
Step 1 Pre heat oven to 220'C/200'C fan.
Step 2 Score the lamb skin and place skin side up in a roasting dish or tray.
Step 3 Whizz all the marinade paste ingredients in a food processor and rub the mixture over the surface of the lamb and into the cuts. Cover loosely and leave to marinate for a minimum one hour but preferably overnight.
Step 4 Remove the lamb from the fridge an hour before cooking and pre heat the oven. Roast the lamb for 30 minutes before reducing the heat to 180'C. Add the 375ml boiling water and continue roasting for one hour, adding more water if necessary.
Step 5 Meanwhile mix the saffron and yoghurt together in a serving bowl.
Step 6 Remove the lamb from the roasting tray, reserving the cooking juices, and leave to rest somewhere warm covered with foil.
Step 7 Tip the couscous into the roasting tray with its residual cooking juices, pour in the chicken stock and stir through. Cover with foil and return to the oven for 20 minutes or until all the liquid is absorbed. Stir the chopped mint through the couscous.
Step 8 Serve the lamb on the couscous with the saffron yoghurt and some green beans and a dollop of Susie's Chilli Jelly on the side.