454g beef fillet
Regular price
£0.00
Sale price
£127.00
Unit price
per
1 x 1.2kg Porchetta Roasting Joint
Regular price
Sale price
£19.99
Unit price
per
25g flat leaf parsley (leaves only)
zest of one small lemon, plus ½ lemon juiced
pinch salt and pepper, to taste
pinch chilli flakes (optional)
Caesar Salad (minus the croutons!)
3 cloves garlic, peeled and crushed
5 anchovy fillets, minced
1 tsp Worcestershire sauce
1 large romaine lettuce, torn into bite-size pieces
Dinner
PORCHETTA & DUCK EGGS BAPS WITH CAESAR SALAD
This is such a lovely way to serve your Porchetta, hot from the oven or BBQ. Slices slapped between a ciabatta roll with gremolata and a rich duck egg. You can use chicken eggs if you're feeling less decadent. Delicious served alongside a classic Caesar Salad.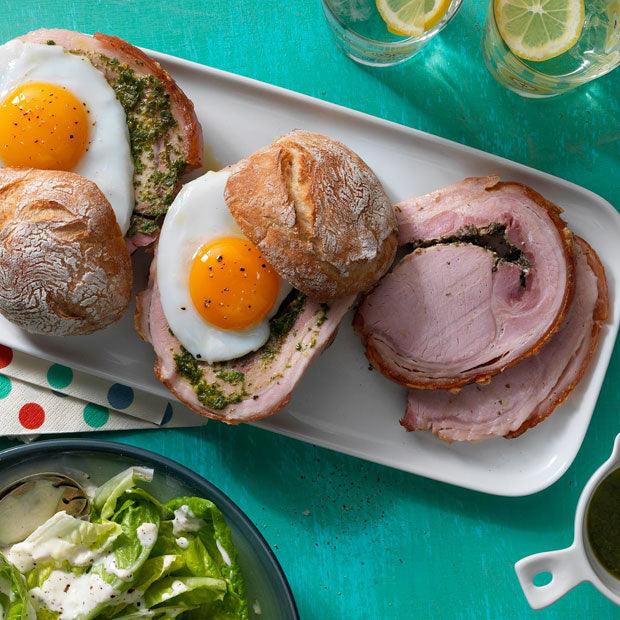 Directions
Step 1 Roast or BBQ the Porchetta according to the instructions on its packaging.
Step 2 Place parsley, garlic and zest in a food processor and pulse until chopped. Add oil, salt & pepper and lemon juice. Pulse again, until uniformly combined but not too smooth. Add chili flakes for a touch of heat if you like.
Step 3 Crush 3 cloves of garlic, and combine in a small bowl with mayonnaise, anchovies, 40g Parmesan, Olive Oil, Worcestershire sauce, mustard and lemon juice. Season to taste with salt and black pepper. Toss the lettuce with dressing and sprinkle over the remaining Parmesan cheese.
Step 4 Fry the duck eggs until white is set but yolk is still runny.
Step 5 Heat the ciabatta rolls in an oven to warm and gently crisp, then split. With the cut side down place each roll in the Porchetta pan to mop up some of the juices. Layer with two slices of porchetta on the ciabatta base, top with a spoonful of the gremolata, then a duck egg and replace the ciabatta lid. Serve alongside the Caesar salad.