1 Jar Vindaloo Cooking Sauce
Regular price
£0.00
Sale price
£8.50
Unit price
per
DukesHill Pork Belly Confit
Regular price
£0.00
Sale price
£11.00
Unit price
per
1tsp Crushed Black Pepper
Coriander Sprigs and Ginger Juliennes to Garnish
2 Spring Onions, Finely Chopped
Dinner
Goan-Inspired Pork Confit Vindaloo
A beautiful recipe inspired by the golden sands and clear waters of Goa, our Pork Confit Vindaloo recipe delivers an extraordinary fusion of taste and texture that will leave your palate astounded. So, prepare to be transported to a world where culinary artistry knows no bounds.In this opulent recipe, succulent pieces of premium pork are cooked until they achieve an exquisite level of tenderness and depth of flavor. Then, the magic happens. Gymkhana's Michelin-Starred Vindaloo cooking sauce is introduced, allowing its robust, aromatic combination of spices to infuse the dish with an unforgettable blend of heat and complexity.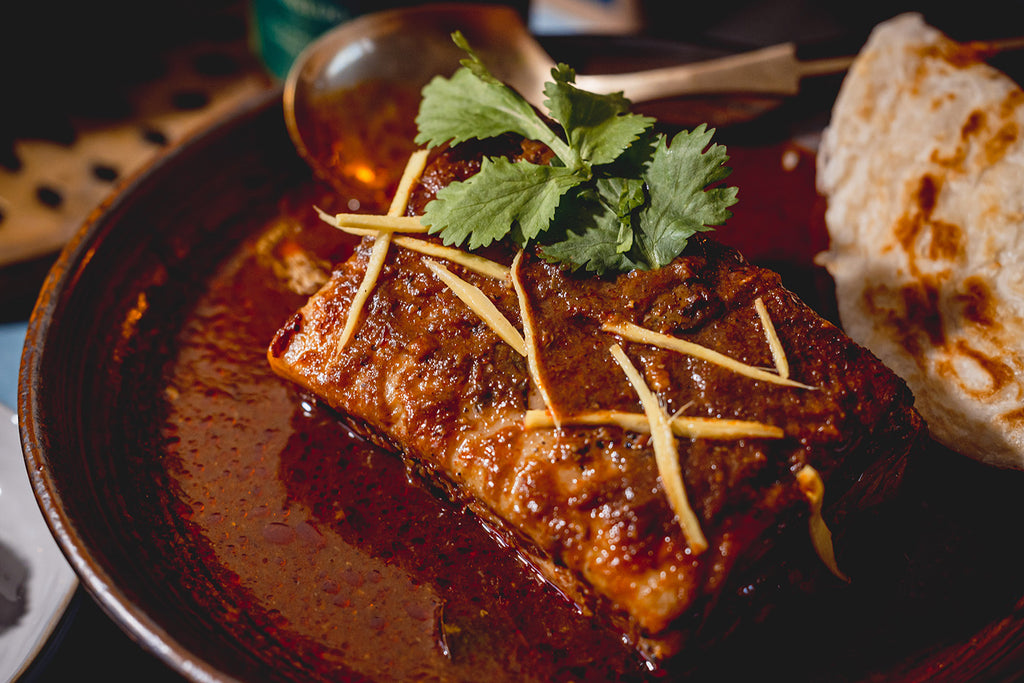 Directions
Step 1 Preheat your oven to 180C.
Step 2 Rub the pork confit with crushed black pepper then set aside for a minimum of 30 minutes.
Step 3 Place the pork confit in a casserole dish, pour over the Vindaloo Cooking Sauce and the water.
Step 4 Cover with a lid or foil at 180C or oven safe lid and cook in the oven for 30mins, then remove the lid or foil, baste the confit with the sauce and cook for a further 10 minutes.
Step 5 Garnish with coriander, ginger juliennes and spring onions.
Recipe Note
Serve with naan or Basmati rice.