½ tsp dried Provencal herbs (or 1 thyme sprig)
170ml tomato confit olive oil (drained)
5tbsp double concentrate tomato puree
100g Ragstone, remove skin and cut into small pieces
1 garlic clove, peeled and roughly chopped
30ml tomato confit oil (remaining confit oil drained)
500g pork belly confit
Regular price
Sale price
£19.99
Unit price
per
½ apple, peeled and finely chopped
12 confit cherry tomatoes (drained)
50g crumbled goats cheese such as Ragstone, remove skin before crumbling
Regular price
£0.00
Sale price
£10.50
Unit price
per
Dinner
PORK CONFIT WITH TOMATOES AND PAPPARDELLE
The inspiration for this Pork Confit with Tomatoes and Pappardelle recipe came from one of my culinary heroes Michel Roux Senior. Here I've adapted his original recipe taken from his wonderful book on Cheese. For this Pork Confit with Tomatoes and Pappardelle I use one of my favourite Dukeshill products, our slow cooked Pork Belly Confit and the lovely Ragstone goats cheese to create this satisfying supper dish. The intensity of the flavours make it perfect for entertaining too. Top tucker as my husband says!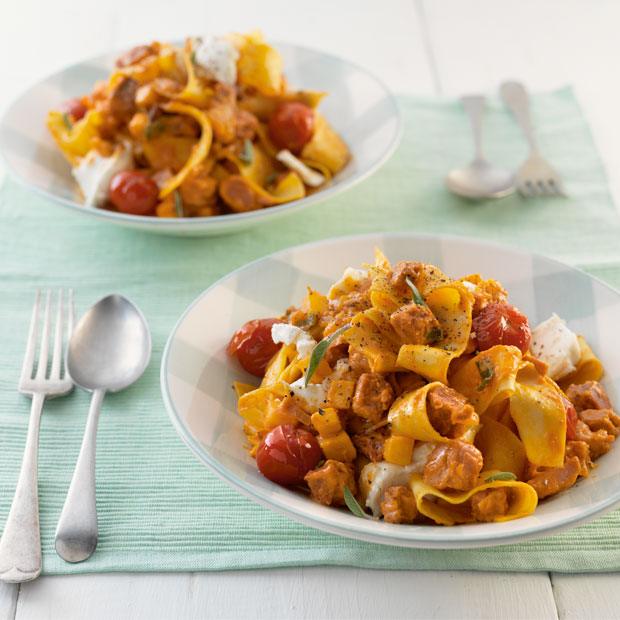 Directions
Step 1 Start by making the tomato confit. It may help to make this the day before to allow time for the confit to cool before using in the recipe.
Step 2 Put the olive oil in a saucepan over a medium heat for 2 minutes, then lower the heat to its lowest setting and add the remaining tomato confit ingredients and shake the pan to mix it all. Turn the heat off as soon as the tomatoes start to split, approximately 8 mins.
Step 3 Remove at once from the heat and transfer to a Pyrex bowl or jug and allow to cool.
Step 4 To make the tomato sauce strain 170ml of the tomato confit oil into a blender or food processor and add the remaining sauce ingredients. Whizz for a few minutes until smooth and put to one side.
Step 5 Heat the remaining 30ml of the strained tomato confit oil into a large heavy based pan over a low to medium heat. Add the onion and sauté for a few minutes, then add the red wine vinegar and let reduce by half (2-3 mins).
Step 6 Turn the heat down low and remove the pork confit from its packaging and dice or tear into chunks. Add to the pan along with all the juices from the bag.
Step 7 Stir in the sultanas, tomato sauce, apple and sage and continue cooking for 5 mins. Ignore the fact it looks curdled, it won't in the end!
Step 8 Meanwhile heat the Pappardelle pasta according to the instructions, approx. 7 mins until al dente. Drain and add to the pan and turn the heat off.
Step 9 Re-heat the confit tomatoes and gently place on top and crumble over 50g goats cheese.
Step 10 Serve straight from the pan, allowing everyone to help themselves.