800g Pork Sausage Meat or Pork Sausages
Regular price
£0.00
Sale price
£5.50
Unit price
per
2 shallots, peeled and finely chopped
½ red chilli, finely chopped
2 x 400g tins good quality chopped tomatoes
15g fresh basil leaves, torn
1 tbsp oregano leaves, chopped
freshly ground black pepper
Dinner
PORK MEATBALLS WITH A RICH TOMATO SAUCE
Our Pork Sausage Meat formed into meatballs is the perfect partner for this rich, intense tomato sauce. A great family friendly dish.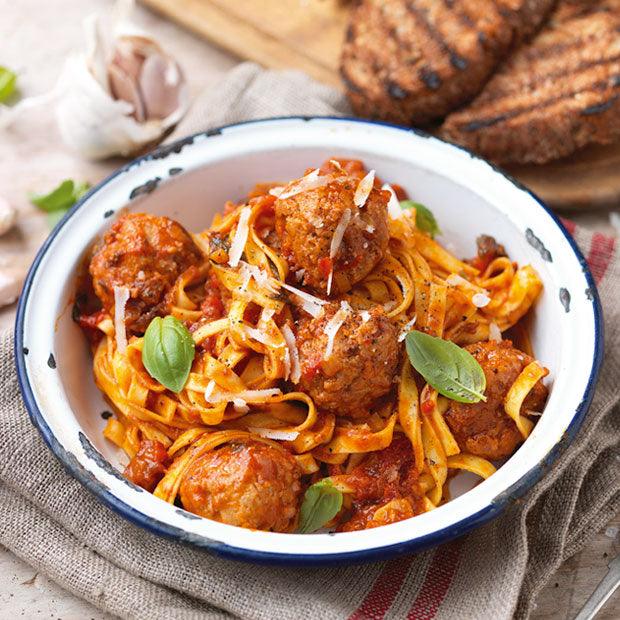 Directions
Step 1 To make the tomato sauce, heat 2 tbsp olive oil in a saucepan and gently fry the shallots, garlic and chilli for 2-3 minutes until soft.
Step 2 Pour in the white wine, then add the tinned tomatoes along with the sugar, basil, oregano and the seasoning. Let the sauce simmer for 5-10 minutes to reduce and thicken.
Step 3 Form the sausage meat into 24 balls. Heat the olive oil in a large frying pan over a medium heat and fry the meatballs until golden, approx. 5 mins.
Step 4 Add the meatballs to the tomato sauce and continue to cook for 10 minutes.
Step 5 Serve with some pasta, just stirring through the rich tomato sauce with the balls on top.