650g DukesHill Pulled Pork (either BBQ or Chinese Five Spice)
Regular price
Sale price
£19.99
Unit price
per
1/2 finely shredded red cabbage
50g toasted, chopped walnuts
150g Greek-style natural yogurt
Dinner
PULLED PORK PITTAS WITH RED CABBAGE SALAD & YOGHURT DRESSING
These Pulled Pork Pittas with Red Cabbage Salad & Yoghurt Dressing are Sarah's take on a Greek Souvlaki using our delectable Pulled Pork. A quick and easy meal, perfect for adults and kids alike.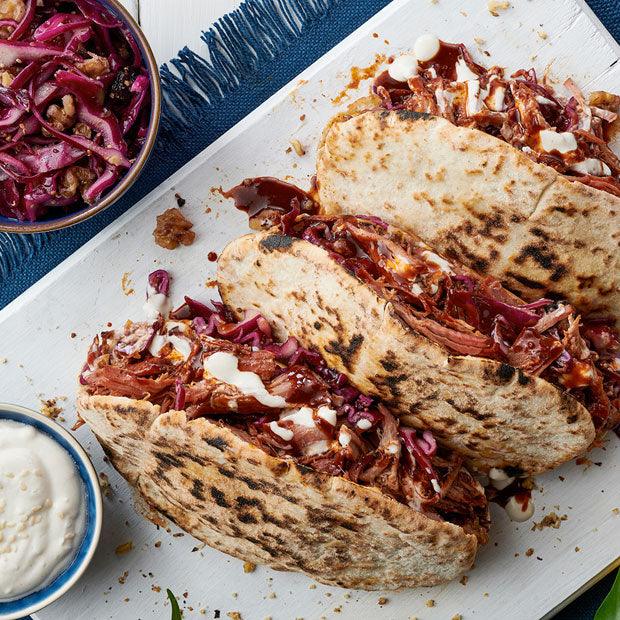 Directions
Step 1 Pre-heat the oven to 200'C/180'C fan/ gas mark 6 and cook the Pulled Pork in a tray for approx. 20 minutes.
Step 2 Mix the red cabbage and raisins together. Meanwhile toast the walnuts in a dry pan.
Step 3 Add all the warm mustard dressing ingredients to the walnuts in the pan and whisk until the dressing comes together, continuing to cook for 2 mins. Remove from the heat and pour over the salad. cheese.
Step 4 Lightly toast the pittas so they remain still floppy but warm. Fill each pitta with some dressed cabbage salad, then some shredded pulled pork and top with the yoghurt dressing.