2 DukesHill Hot Smoked Salmon Fillets, chopped
Regular price
£0.00
Sale price
£12.95
Unit price
per
1 spring onion, finely sliced
1 red chilli, finely chopped
10g coriander leaves, chopped
1 avocado, peeled and sliced
½ small red onion, sliced
Dinner
SALMON & HARISSA BURGER
Looking for a flavourful and unique burger option? Try this Salmon & Harissa Burger. Served on a toasted bun with some fresh greens and sliced avocado,this burger is a delicious twist on the classic beef burger.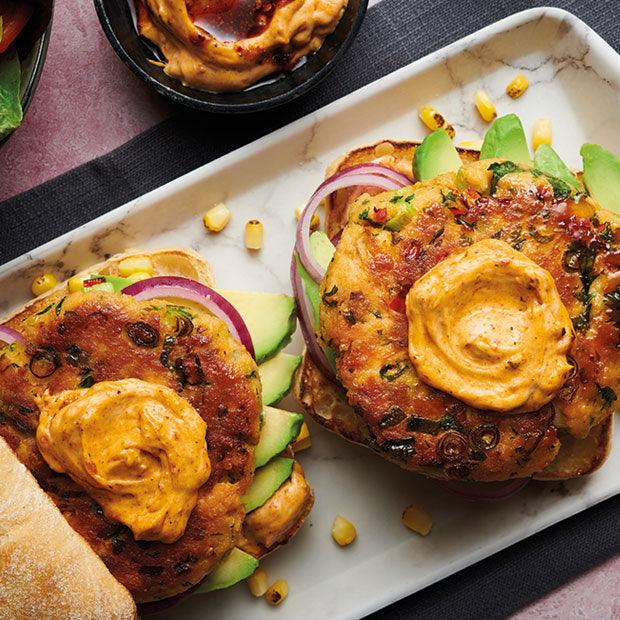 Directions
Step 1 Remove the skin from the salmon fillets, then tear into flakes and place in a bowl with the sliced spring onions, red chilli, & chopped coriander leaves, stalks discarded (leave some leaves for garnishing at the end), egg white & breadcrumbs.
Step 2 Combine these ingredients together either with a fork or a masher (make sure you don't over blend, you will want some chunks of salmon left in there).
Step 3 Roll the salmon mixture with your hands into two thick burger patties that will fit inside the ciabatta rolls.
Step 4 Wrap in clingfilm & chill for at least 30 minutes.
Step 5 Heat a pan over a high heat.
Step 6 Rub the cob with oil & salt. Cook for 8-10 minutes, turning regularly until softened & charred.
Step 7 Using a sharp knife, slice down the length of the cob to remove the charred kernels. Keep these in a bowl ready to be used.
Step 8 Mix 3 tbsp mayo in a small bowl with 1 tbsp harissa paste. Mix together until you get a nice pink/orange sauce.
Step 9 Finely slice the small red onion, avocado & wash the little gem lettuce ready to be put in the burger. These will be the garnishes in the burger.
Step 10 Heat the olive oil in a pan and cook the salmon burgers on a medium heat. Do not move around too much or press down on the burgers as this will dry the salmon. Cook for about 3-4 minutes on each side.
Step 11 Half the ciabatta rolls and toast in the toaster.
Step 12 Cover both top and bottom bun with the harissa mayo. On the bottom part of the roll, place the sliced red onion, corn & avocado.
Step 13 Then place the salmon patty on top and then layer with a bit of lettuce & some more chopped coriander. Squeeze some lime over the burger and then place the top bun on top.