2 x 400g pork sausages (any in our range work well)
Regular price
£0.00
Sale price
£5.50
Unit price
per
2 x 400g pork sausages (any in our range work well)
1 rounded tablespoon hot Hungarian paprika (add more if you really like a kick)
1 red pepper, de-seeded and finely chopped
1 x 400g tin good quality chopped tomatoes
freshly milled black pepper
Dinner
SAUSAGE GOULASH
This mildly spicy, warming sausage goulash has just enough of a kick to be interesting, but not blow your socks off! A great favourite in our family using any of our sausages.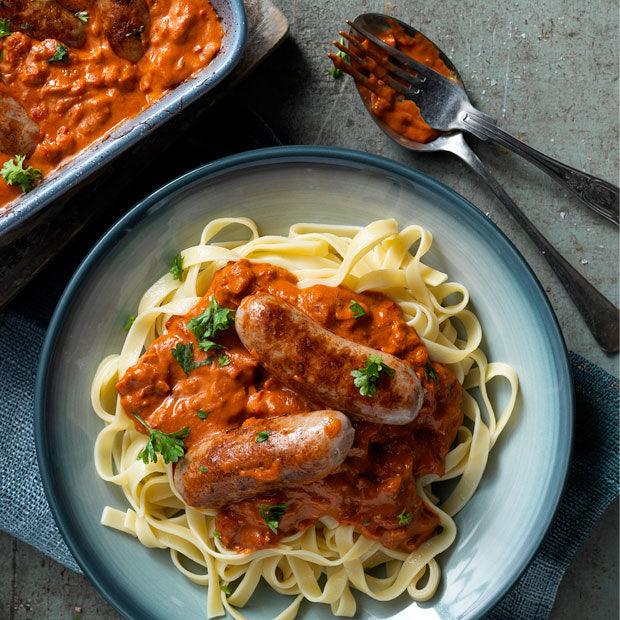 Directions
Step 1 Pre-heat the oven to 150'C/130'C fan/gas mark 2.
Step 2 Heat the oil in a heavy based casserole pan over a medium heat and brown the sausages for 10 mins. Then transfer them to a plate.
Step 3 Reduce the heat and in the same pan add the onion and red pepper and cook for about 5 minutes.
Step 4 Add the garlic, cook for another minute and stir in the hot paprika and flour. Stir to soak up the juices, then add the tomatoes, sugar and water, season with salt and pepper, then bring it all up to simmering point, stirring all the time.
Step 5 Add the sausages to the sauce, bring back to simmering point, cover with a tight-fitting lid and transfer it to the oven for 30 minutes.
Step 6 Remove from the oven and stir in the crème fraîche. Sprinkle with some chopped parsley and serve with tagliatelle, mash or dumplings and some buttered cabbage.