1 tbsp whole black peppercorns
1 Jar Classic Tandoori Marinade
Regular price
£0.00
Sale price
£7.50
Unit price
per
1 Jar Rogan Josh Sauce
Regular price
£0.00
Sale price
£8.50
Unit price
per
DukesHill Grass-Fed Beef Ribeye Steaks 2 x 230g
Regular price
£0.00
Sale price
£24.50
Unit price
per
Dinner
Grilled Tandoori Ribeye Steak Skewers Recipe
Gourmet home dining is at your fingertips and it starts right here with our Grilled Tandoori Ribeye Steak Skewers. Imagine succulent ribeye steak, marinated to perfection in the rich and aromatic Tandoori spices, embracing the smoky, open flames of the grill. Each skewer a testament to the fusion of Western steakhouse luxury with the vibrant flavors of the East. That's what you get with this recipe. These Grilled Tandoori Ribeye Steak Skewers are an opulent experience that promises to ignite your senses and redefine your definition of 'grilled perfection'. This tantalizing rendezvous of premium ingredients and exquisite craftsmanship, deftly relayed through the recipe, results in a feast that exudes sophistication and innovation.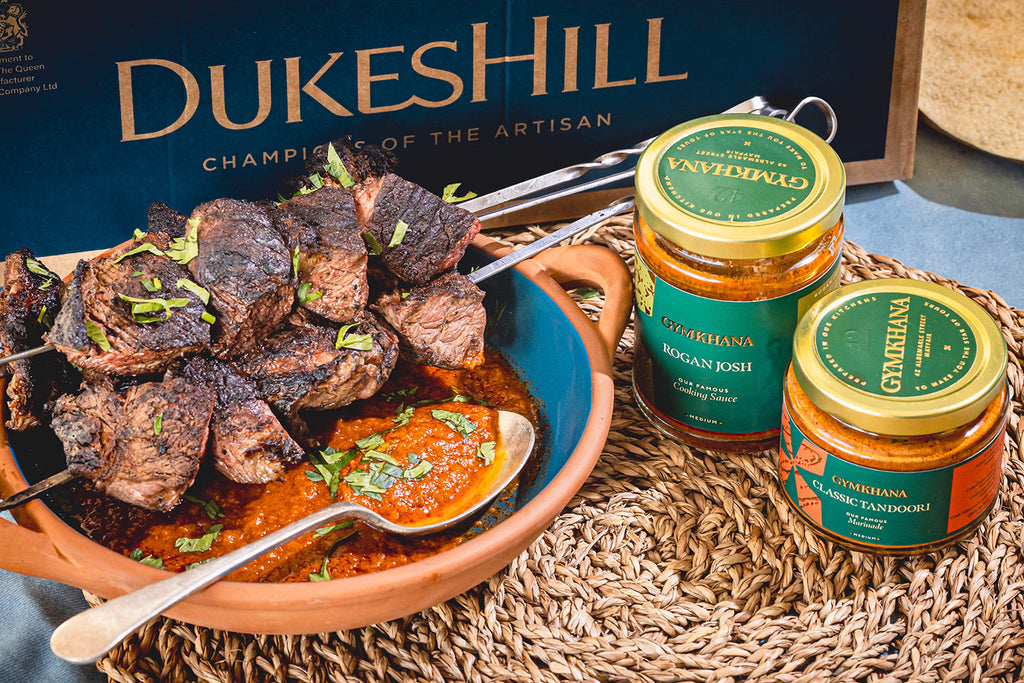 Directions
Step 1 Crush 1 tbsps peppercorns using a pestle and mortar or blender.
Step 2 Cut each steak into 8 even pieces, 16 pieces total.
Step 3 Place the raw meat into a bowl, add 2 tbsp (30g) Classic Tandoori Marinade, and your freshly crushed pepper.
Step 4 Mix well. Let that marinade for a minimum of 30 minutes.
Step 5 Then skewer the meat onto metal or wooden skewers. If using wood, make sure to soak them overnight. 4 pieces per skewer.
Step 6 Grill the meat on embers until nicely cooked and lightly charred.
Step 7 Heat the Rogan Josh Sauce on the stove or on the grill.
Step 8 Pour Rogan Josh Sauce into a deep side dish, ready for dipping your skewers into.
Recipe Note
Please note that this meal contains Dairy and Mustard.