200g dry cured streaky bacon, diced
Regular price
£0.00
Sale price
£7.50
Unit price
per
400g brie style cheese (like Baron Bigod), derinded and sliced
Regular price
£0.00
Sale price
£12.50
Unit price
per
750g potatoes (such as King Edwards, Desiree, Maris Piper), peeled and sliced 3mm thick
Dinner
TARTIFLETTE SAVOYARDE
I am a lousy skier and actively dislike it. My family have now given up forcing me down mountains on planks, thank goodness. The only positive I ever remember was this simple Tartiflette Savoyarde, a speciality served in the mountain restaurants washed down with gallons of red wine vinegar masquerading as red wine! It is equally great eaten at any time of the year. Some variations on this dish use white wine, chicory, celeriac, herbs, garlic, various other sorts of cheeses such as Camembert, Reblochon or Winslade etc. but I like it as follows using our dry cured streaky bacon.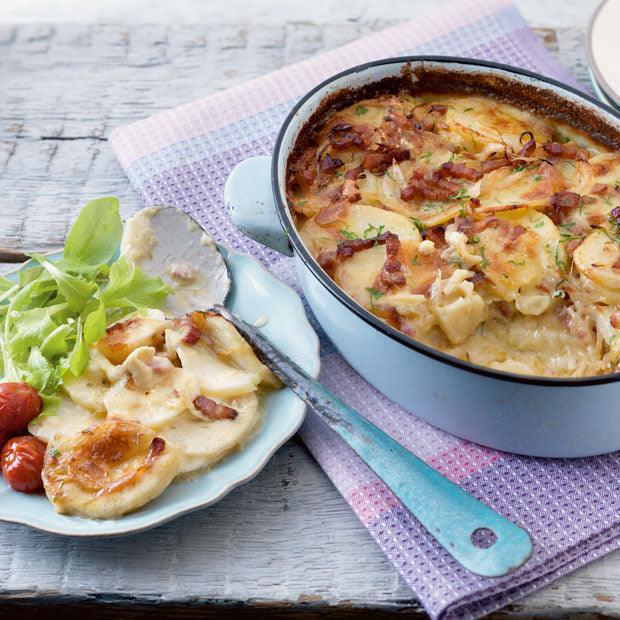 Directions
Step 1 Par boil the potato slices in boiling, salted water for about 5 minutes, then drain in a colander and refresh with cold water.
Step 2 Sauté the bacon in a splash of olive oil until crisp and golden. Add the onions and cook for about 10 mins until the onions are soft.
Step 3 Butter a gratin dish and arrange layers of potato, onion and bacon and cheese, seasoning as you go but don't add too much salt.
Step 4 Pour the cream over and bake for 40 mins at 190′C/ fan 170′C/ top of baking oven in Aga until the top is golden and bubbling.
Step 5 Serve with some cherry tomatoes, olive oil, sea salt and basil for a wonderful lunch or supper dish.