DukesHill Tomahawk Steak or DukesHill Ribeye Steak
Regular price
£0.00
Sale price
£24.50
Unit price
per
Small bunch of Fresh Coriander
1 1/2 tbsp Red Wine Vinegar
1 cup firmly packed fresh Flat-Leaf Parsley leaves
2 tablespoons fresh Oregano
1/3 cup extra virgin Olive Oil
2 tablespoons Red or White Wine Vinegar
1/8 teaspoon freshly ground Black Pepper
1/4 teaspoon Red Pepper Flakes
BBQ
TOMAHAWK STEAK, GRILLED POTATO SALAD AND CHIMICHURRI DRESSING
A deliciously succulent meal for two that can be appreciated at any time of year, as a romantic evening meal or even enjoyed by family and friends as an elegant and classic BBQ lunch. Created in partnership with @Into.trends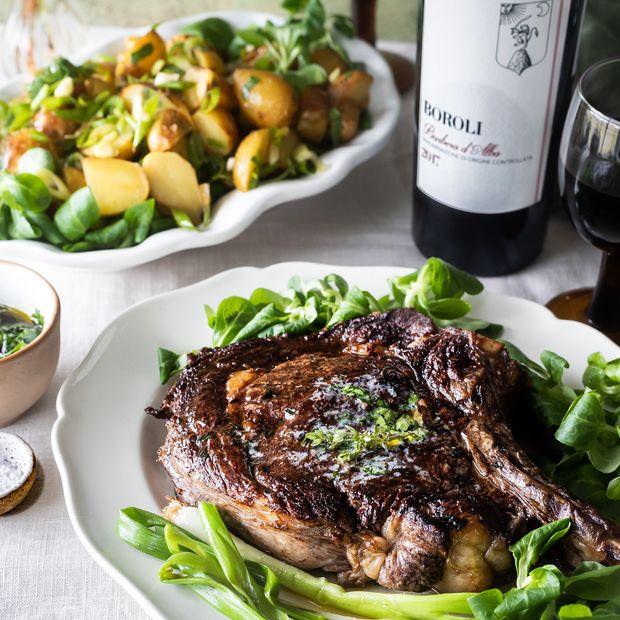 Directions
Step 1 For the perfect Tomahawk Steak: Salt (& Pepper if desired) on both sides of the steak and refrigerate for 6-12 hours.
Step 2 Then add your seasoning, rub or marinade and allow this to rest again for 3-6 hours
Step 3 Before cooking, allow the meat to reach room temperature. For a beautifully browned crust, drizzle with oil and season, start this thick cut-off in a smoking hot griddle pan for 3 to 4 minutes on each side before finishing in the oven (200°C, 180°C fan, gas mark 6). Alternatively, roast it first before transferring it to the barbecue. The length of time in the oven will depend on how you enjoy your steak. For a medium rare steak, getting the internal temperature to 55°C will take around 30 minutes, but you could always use one of our MEATER Meat Thermometers for more accuracy.
Step 4 For the Potato Salad. Preheat the grill and apply a thin layer of oil to the grate.
Step 5 Put the potatoes in a bowl and coat with 1 tablespoon of olive oil.
Step 6 Then place and cook on the already preheated grill for around 30 minutes, until they are tender.
Step 7 Allow to cool for 10-15 minutes, and then cut into quarters.
Step 8 For the Dressing, whisk together 2 tbsp olive oil, red wine vinegar, honey and pepper until smooth.
Step 9 Chop the garlic, green chilli, salad onions, lettuce, and coriander then add, along with the grilled potatoes, to the dressing mixture and make sure all are evenly coated in the dressing.
Step 10 For the Chimichurri. Finely chop the parsley, fresh oregano, and garlic (or use a food processor - several pulses).
Step 11 Place in a small bowl and stir in the olive oil, vinegar, salt, pepper, and red pepper flakes. Adjust seasonings.
Step 12 Serve all dishes together immediately and enjoy!