Venison Haunch
Regular price
£0.00
Sale price
£15.00
Unit price
per
1 celeriac, peeled and thinly sliced
1 large onion, thinly sliced
Dinner
Venison Haunch with Celeriac Boulangère
Rich venison pairs beautifully with the earthy savouriness of celeriac. For an impressive celebratory dish that's easier than it looks, serve your guests this autumnal boulangère.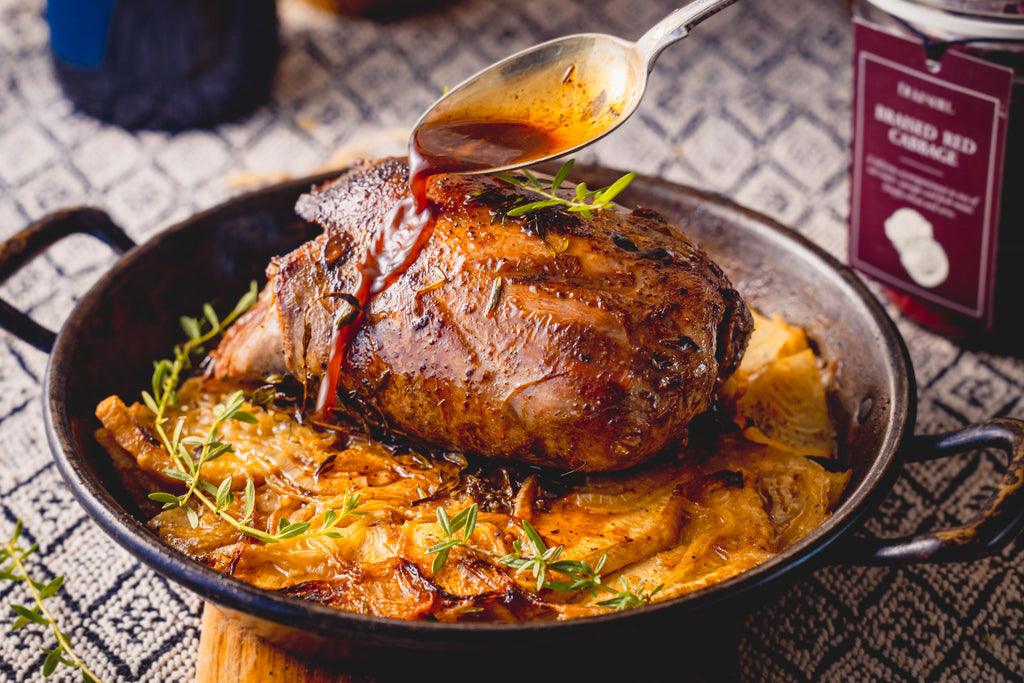 Directions
Step 1 Preheat oven to 180c.
Step 2 Butter a baking dish generously. Place a layer of celeriac neatly over the bottom of the dish, followed by a layer of onion slices and thyme sprigs. Season generously with salt and pepper. Repeat the layering process until you have used up all the celeriac and onions, seasoning well as you go. Mix the mustard through the stock and gently pour it over the vegetables. Cover tightly with kitchen foil. Bake in the centre of the oven for 30 minutes.
Step 3 Rub the venison down with olive oil and season well with salt and pepper.In a hot frying pan, add a knob of butter, a slick of oil and sprigs of thyme. Using tongs, sear the venison so it is browned all over.
Step 4 Remove the foil from the celeriac (keep it for later) and add the venison to the top of the celeriac. Return to the oven for a further 20 minutes. Reduce the temperature to 160c and cook for approx 10 minutes. Check with a meat thermometer - the core temperature should be 57 degrees. Wrap the foil around the venison and allow it to rest for a minimum of 10 minutes.
Step 5 To serve, slice the venison and serve with braised red cabbage.
Recipe Note
For neater slices of boulangere, press the cooked celeriac gratin overnight (or at least 4 hours) by covering with greaseproof paper and weighing down with a heavy saucepan. Continue the recipe the following day.Tanners wine pairing - Crozes-Hermitage, Coeur de ClairmontThey say, "Flavour packed, tender and impressive to look at, a Venison Haunch makes an ideal centre piece. Crozes-Hermitage is a favourite amongst many, the Syrah grape here brings juicy, red berry fruit with a light tannic structure to marry with the gamey venison. There is an earthy note too to pick up on the seasonal roots.