x6 DukesHill Wholegrain Pancakes
Regular price
£0.00
Sale price
£4.95
Unit price
per
200g DukesHill Ragstone, sliced into 6 rounds
Regular price
£0.00
Sale price
£10.50
Unit price
per
3 tbsp Blossom Soft Set Honey
Regular price
£0.00
Sale price
£9.70
Unit price
per
2 ripe pears, thinly sliced lengthwise, stem & seeds removed
Breakfast
WHOLEGRAIN PANCAKES WITH GOATS CHEESE, HONEY & PEAR
Looking for a breakfast that's both sweet and savoury? These Wholegrain Pancakes with Goat Cheese, Honey & Pear are the perfect indulgent treat to start your day! Made with wholesome whole grains, these pancakes have a nutty flavour and hearty texture that pairs perfectly with the tangy, creamy flavour of goat cheese. And when topped with slices of juicy pear and a drizzle of sweet honey, every bite is a delicious combination of flavours and textures.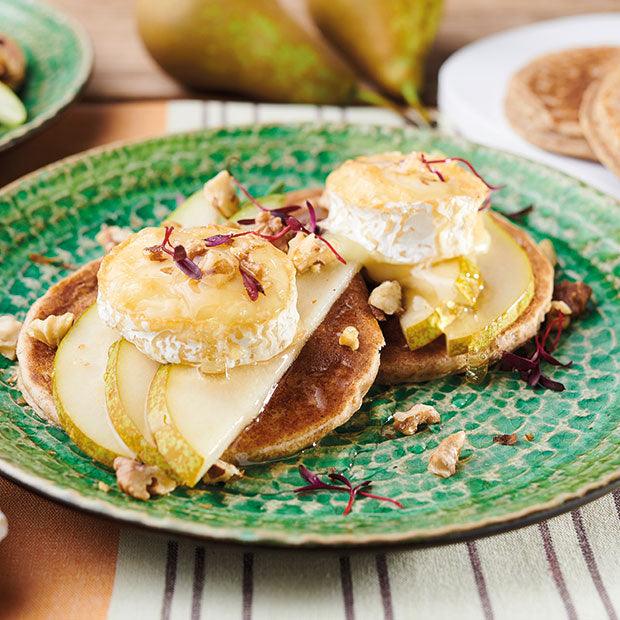 Directions
Step 1 Place the goats' cheese rounds onto a tray with baking parchment and place under a moderate grill.
Step 2 Grill for 2-3 minutes until the cheese has melted and begun to brown.
Step 3 Halve the walnuts and toast in a dry pan for 3 minutes stirring frequently.
Step 4 Toast or microwave the pancakes to warm through.
Step 5 Top each pancake with some sliced pear, a round of grilled Ragstone and garnish with a generous drizzle of Blossom Soft Set Honey and some toasted walnuts.