200g bacon, chopped 1 cm strips
Regular price
£0.00
Sale price
£7.50
Unit price
per
2 tbsp pine nuts, toasted
freshly ground black pepper
Lunch
BACON, KALE & STILTON SALAD
The kale gives this salad lots of texture and the combination of the bacon, greens and Stilton with the plump sultanas in their dressing makes for a really tasty, satisfying salad.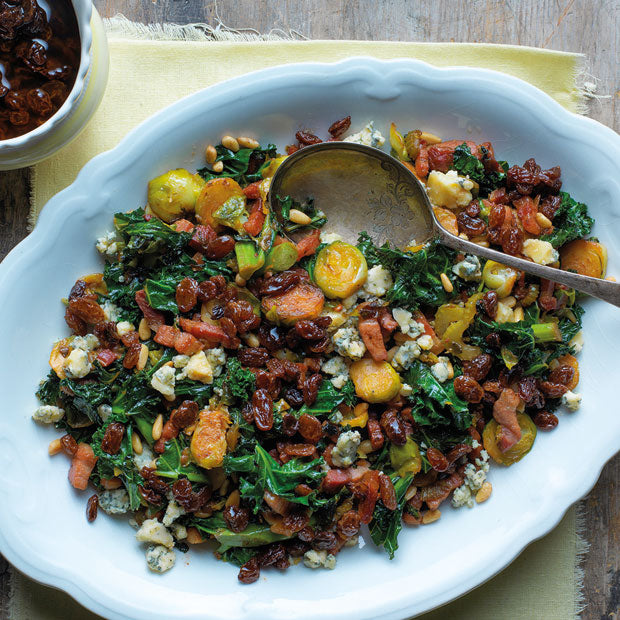 Directions
Step 1 Start by making the dressing. Mix the two vinegars and sultanas together. Leave in a bowl at room temperature for 6 hours minimum, preferably overnight to allow the sultanas to plump up evenly.
Step 2 Add the oil and seasoning to the sultanas and whisk thoroughly.
Step 3 Par cook the sprouts by boiling them in salted water for 10 mins. Drain.
Step 4 Meanwhile heat the oil in a heavy based pan over a medium heat and cook the bacon until golden, approximately 4-5 minutes.
Step 5 Remove the bacon and using the same pan cook the celery and blanched sprouts for 5 mins. Finally return the bacon to the pan with the kale for 2 minutes. Remove from the heat and stir through half the Stilton and the dressing.
Step 6 Serve immediately on a platter with the rest of the Stilton scattered over and the toasted pine nuts sprinkled on top.