500g black pudding, 12 slices 1cm thick (or haggis formed into 12 patties)
Regular price
£0.00
Sale price
£5.50
Unit price
per
1/2 small leek sliced very finely
10g chives finely chopped
1 1/2 tsp coarse grain mustard
2 tbsp white wine vinegar
½ tsp English mustard powder
½ tsp Worcestershire sauce
½ tbsp coarse grain mustard
Starter
BLACK PUDDING & SMOKED HADDOCK FISHCAKE WITH WARM MUSTARD DRESSING
This seems an unlikely combination, but I can assure you it works wonderfully well. The Black Pudding & Smoked Haddock Fishcake with Warm Mustard Dressing can be made using either black pudding or haggis. Makes a delicious starter, lunch or supper dish.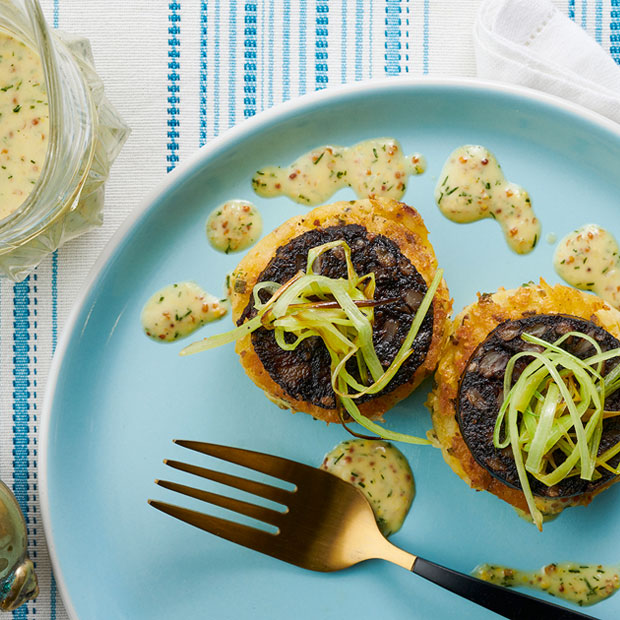 Directions
Step 1 Poach the smoked haddock in the milk with the onion, peppercorns and parsley for 10 minutes until lightly cooked. Drain the haddock and discard the poaching liquid, leave to cool.
Step 2 Meanwhile boil the potatoes for 15-20 minutes, drain and mash with the crushed garlic clove and the butter.
Step 3 Allow the mash to cool for 10 minutes and then mix in the egg yolks, grated cheddar, flaked haddock and season to taste. Form the haddock mixture into 12 cakes about the same diameter as the black pudding slices.
Step 4 Place the fish cakes onto a baking tray and bake for approximately 15-20 minutes at 200°C/180°C fan/gas mark 6. Meanwhile gently fry the black pudding slices in butter for 10 minutes, turning once, until just starting to crisp. Remove the slices and keep warm whilst frying the leek in the same butter until golden.
Step 5 Meanwhile whizz all the dressing ingredients together in a blender and transfer to a small saucepan to heat gently.
Step 6 Top 3 fish patties with 3 black pudding slices. Drizzle over a few spoonful's of dressing and finally top with the leek and serve.