4 Big Bangers (or any sausages from our range)
Regular price
£0.00
Sale price
£5.50
Unit price
per
1 clove garlic, finely chopped
2 tsp American style mustard
100g Comté cheese, grated
Dinner
HOT DOGS WITH SWEETENED BALSAMIC ONIONS & CHEESE
Neale Hollingsworth is the undisputed master of the BBQ, or rather the Egg now! It's a deeply bonding experience for men it seems. Thankfully Sarah has now trained him to do all the clearing up too! This is one of his BBQ favourites, the classic American style Hot Dog. Perfect for entertaining and popular with all ages.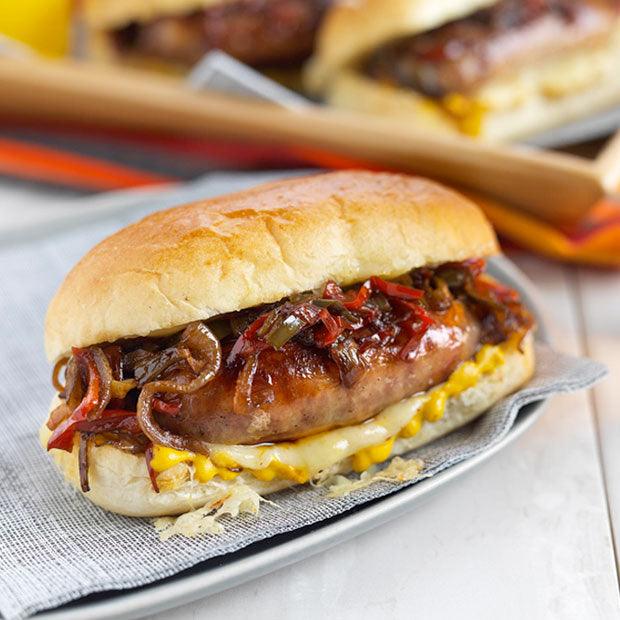 Directions
Step 1 BBQ the sausages until golden brown, turning once. Remove from BBQ and set aside. Or if not using the BBQ fry the sausages in a little oil in a heavy based pan for 20 mins, then set aside.
Step 2 Heat a pan over a low heat and cook the onions in the olive oil until lightly browned and soft for 3-5 mins. Add the balsamic vinegar and sugar and cook for 1 minute. Add the garlic and sliced peppers and cook for another 5-7 minutes, or until softened. Season to taste.
Step 3 Slice each roll down the centre and spread one half with ½ tsp mustard. Sprinkle the grated cheese on both the cut sides of each roll. Place under a preheated grill (or on a lidded BBQ) for a few minutes just to slightly toast roll and melt the cheese.
Step 4 Fill each roll with a sausage and a dollop of the onion mixture.