1 side of hot smoked salmon (skin removed)
Regular price
£0.00
Sale price
£12.95
Unit price
per
1 small onion, finely chopped
2 tbsp capers, roughly chopped
A bouquet garni of fresh thyme, parsley & fresh bay leaves, tied with string
½ red onion, very finely chopped
200g button mushrooms, chopped
200g mixed long grain and wild rice
A bunch of fresh dill, chopped
A small bunch of fresh parsley, stalks removed, and finely chopped
Grated zest and juice of a lemon
2 x 500g blocks of puff pastry
Fish
HOT SMOKED SALMON COULIBIAC
The perfect restaurant-worthy dish using our delicious Salmon Coulibiac recipe.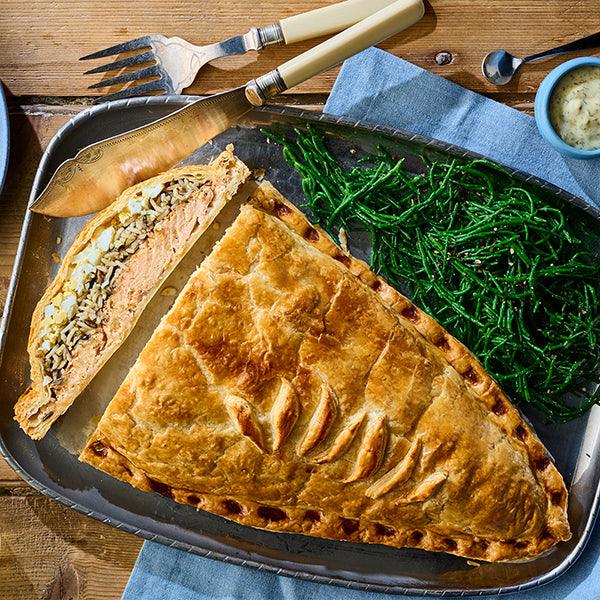 Directions
Step 1 Hard boil the eggs for 7 minutes, cool under running water and then chop roughly and reserve.
Step 2 Gently fry the chopped onion in half of the butter in a large heavy-bottomed pan together with the bouquet garni and some salt and pepper. Once the onion is completely soft (about 15 minutes) tip it into a bowl and reserve. Keep the bouquet garni to one side.
Step 3 In the same pan, add the remaining butter and sweat off the mushrooms until they have softened and started to colour. Remove them from the pan, adding them to the cooked onion.
Step 4 Add the rice to the pan together with any butter that remains from cooking the mushrooms, and stir to coat; add the fish stock and bouquet garni and bring to a boil then reduce to a simmer; cover and cook gently for about 18-20 minutes until the rice has absorbed the stock.
Step 5 Once the rice is cooked, mix it with the onion and mushrooms (discarding the bouquet garni), and allow it to cool thoroughly. Once cool, stir through the capers, dill and parsley and the juice and zest of the lemon.
Step 6 Heat the oven to 200°c fan.
Step 7 Line a baking sheet with baking parchment and roll out the pastry blocks to a size able to completely cover the salmon.
Step 8 Place the salmon onto one sheet of pastry. Carefully mound the rice mixture on top, and then add a layer of chopped hard-boiled egg. Brush the overlapping pastry with a little water to seal it, before laying the second sheet of pastry on top. Patting the pastry to form a neat parcel of the salmon, ensure that the salmon is fully enclosed, then brush the pastry with beaten egg.
Step 9 ke for 20 minutes, or until the pastry has puffed and turned golden.
Step 10 This coulibiac is best served having had a chance to rest for 20 minutes or so, with a green salad or maybe some steamed asparagus.