400g extra meaty sausages, skinned and crumbled
Regular price
£0.00
Sale price
£5.50
Unit price
per
1 tbsp pistachios chopped
1 tsp preserved lemons, chopped
300g spinach (or chard), chopped or torn
freshly ground black pepper
Dinner
MOROCCAN INSPIRED SAUSAGE MEAT FLATBREADS
With North African influences this Moroccan Inspired Sausage Meat Flatbread recipe is packed full of flavour, yet not too spicy. Stunning to look at with it's topping of spinach and green pesto. Equally good served as a baked potato topping in place of the flatbreads. Made using our Extra Meaty Sausages or Sausage meat.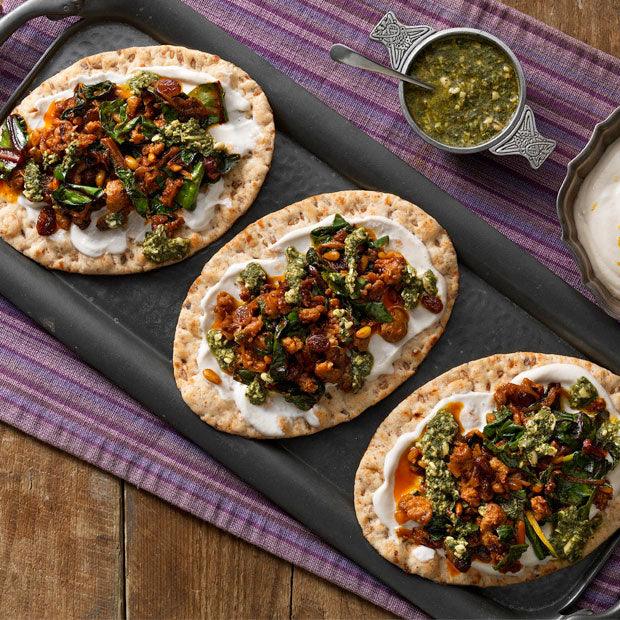 Directions
Step 1 Fry the onion, pistachios and pine nuts in the oil over a medium heat for a few minutes until the onion is golden. Add the garlic and fry for two minutes, then add the sausage meat and fry for another five minutes until browned, breaking the meat up as it cooks.
Step 2 Add the chutney, sultanas, cumin, turmeric, preserved lemon and rose harissa, and fry for one minute.
Step 3 Add the spinach and water and cover for 5 mins until wilted. Season to taste.
Step 4 Mix the tahini and natural yoghurt and season with salt.
Step 5 Warm the flatbreads and top with the tahini yoghurt. Put the sausage meat mixture on top and serve with the green pesto drizzled on top.