400g Dukeshill pork sausage meat
Regular price
£0.00
Sale price
£5.50
Unit price
per
8 rashers Dukeshill smoked streaky bacon
Regular price
£0.00
Sale price
£7.50
Unit price
per
2 sticks of celery, chopped
20g fresh parsley, chopped
Dinner
PORK & CRANBERRY STUFFING CAKE
I developed this pork & cranberry stuffing cake originally to go with roast turkey, but it is absolutely delicious as a meal in its own right.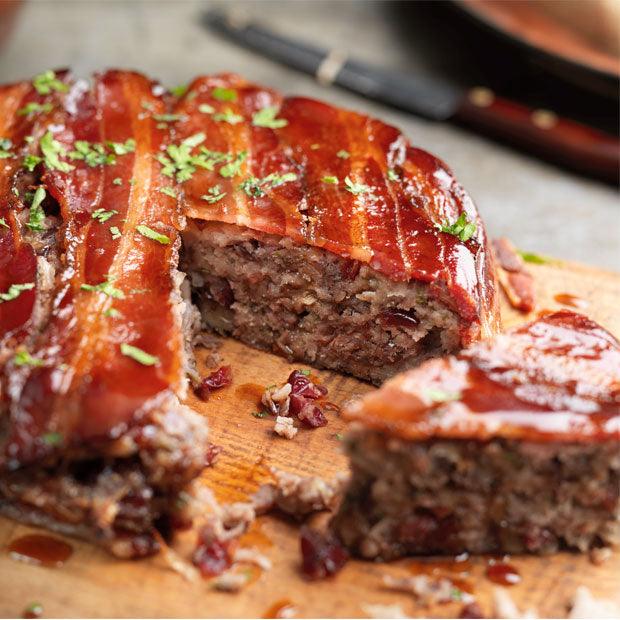 Directions
Step 1 Pre-heat oven to 190°c/170°c fan
Step 2 Heat the oil in a pan and add the chopped onion and celery. Sauté gently for 5-10 minutes until soft then set aside to cool.
Step 3 Put the sausage meat in a bowl and add the cooled onion and celery mixture, along with the maple syrup, pecans, breadcrumbs, egg, parsley and seasoning. Mix thoroughly.
Step 4 Stretch the rashers of bacon and place in a criss-cross pattern in a round cake tin (8in diameter) allowing the ends to hang over the edge. There will be gaps between the rashers, but don't worry.
Step 5 Press the sausage mixture into the tin on top of the rashers, making sure not to leave any gaps. Fold the rasher ends back over the top of the filling.
Step 6 Cook in the oven for 40 minutes or until golden.
Step 7 Remove from the oven but leave the oven on.
Step 8 Invert the stuffing loaf/cake onto a baking sheet lined with greaseproof paper. Brush with maple syrup and pop back in the oven for a further 15-20 minutes to brown.
Step 9 Remove from the oven and serve in slices.