1 DukesHill Half Roast Chicken with lemon, thyme & roasted garlic.
A generous pinch of flaked salt 
2 tbsp olive oil, extra to drizzle
Boiling water or stock, according to packet instructions 
2 tbs of freshly chopped herbs 
Dinner
ROAST CHICKEN WITH LEMON THYME & ROASTED GARLIC WITH HERBY COUSCOUS AND BABA GHANOUSH
Savour the tender perfection of Roast Chicken infused with zesty Lemon and aromatic Thyme, accompanied by delectable Roasted Garlic, a side of flavourful Herby Couscous, and a creamy Baba Ghanoush.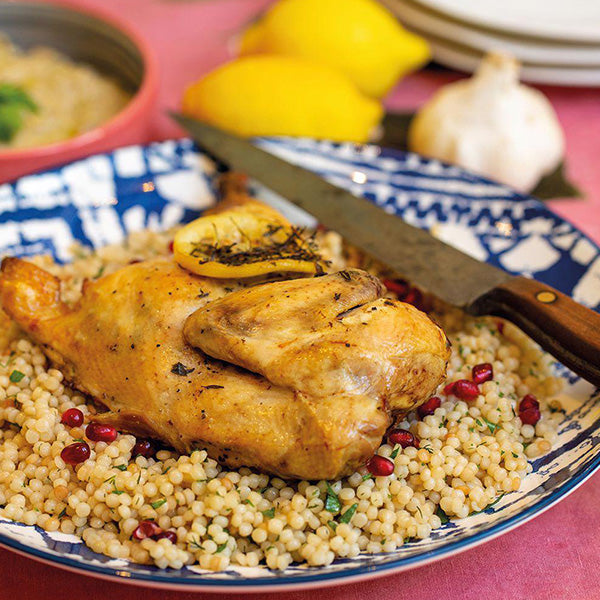 Directions
Step 1 Preheat oven to 180°c fan.
Step 2 Remove the chicken from all packaging and put the contents of the bag, including any liquid, into a baking tray lined with foil.
Step 3 Cook for 25 minutes, or until golden. Baste with the juices in the tray from time to time.
TO MAKE THE BABA GHANOUSH:
Step 5 Prick the aubergines to stop them from bursting, then grill all over for about twenty minutes until well charred all over; I use a gas barbecue for this. Remove from heat and allow to cool somewhat.
Step 6 Meanwhile, mix the garlic, salt, tahini, lemon juice and olive oil in a bowl. Once the aubergines are cool enough, scoop out the flesh and mix it thoroughly with the other ingredients. Drizzle a little olive oil over the top.
TO MAKE THE HERBY COUSCOUS:
Step 8 Prepare the couscous according to the type you are using; we've used pearl couscous to give more texture from the larger grains. For added flavour, use chicken on vegetable stock instead of water, and add a pinch of salt.
Step 9 Chop a selection of soft green herbs (we've used flat leaf parsley, chervil and tarragon) and stir them through the cooked couscous, with a dash of olive oil.
Step 10 Serve the chicken on a bed of couscous, accompanied with Baba Ghanoush and some flatbreads.