1 x 400g pack sausages or sausage meat
Regular price
£0.00
Sale price
£5.50
Unit price
per
100g bacon, chopped
Regular price
£0.00
Sale price
£7.50
Unit price
per
250g fresh cherry tomatoes, chopped across their middle
2 tbsp dry white vermouth
½ tsp plus ¼ tsp chilli flakes
2 tbsp Meaux mustard (or any wholegrain mustard)
250g fresh lasagne sheets (or boil dried lasagne sheets for 2 mins and refresh)
Breakfast
SAUSAGE CANNELLONI
This Sausage Cannelloni is a wonderful way of using our sausages or sausage meat and makes a delicious family friendly lunch or supper dish. It can be made with any of our sausages, and any of our bacon. Delicious just served with a dressed salad and some garlic bread. compliments!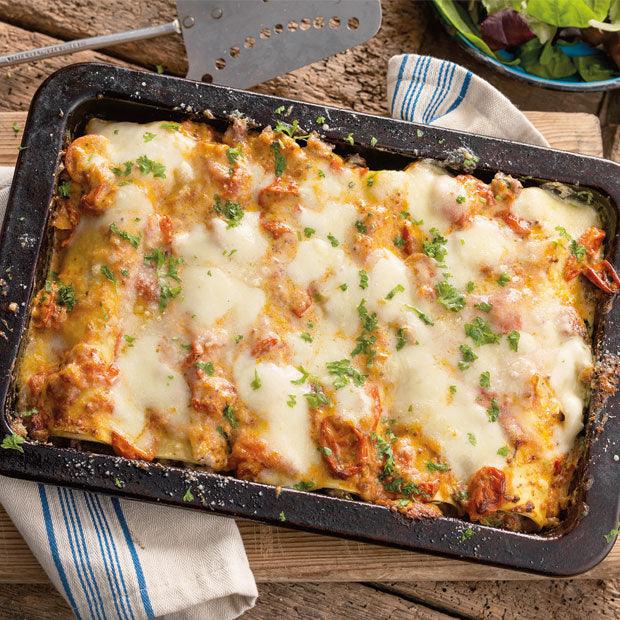 Directions
Step 1 Pre-heat the oven to 200'C/180'fan.
Step 2 Heat 1tbsp olive oil in a heavy bottomed pan and fry the bacon over a medium heat until crisp, about 3-5 mins. Remove to a plate. Add a further two tbsp olive oil to the pan. If using sausages remove the skins and break up into chunks, or squeeze the sausage meat from the tube and again break into chunks. Add to the pan and brown the meat for 5 mins, breaking up the lumps as it cooks. Remove to a plate.
Step 3 For the sauce reduce to a low to medium heat and sauté the onion in the same pan for 5 mins until softened. Add ½ tsp chilli flakes, 2 chopped garlic cloves and basil and cook for a further 2 mins. Remove from the heat and stir in the cream and mustard and ¼ tsp sea salt.
Step 4 Meanwhile in a saucepan heat 1tbsp olive oil over a medium-low heat and cook the remaining clove of garlic for one minute. Add the remaining ¼ tsp chilli flakes and ¼ tsp sea salt and cook for a further minute. Add the cherry tomatoes and continue to cook for 5 mins until softened. Add the vermouth and stir through for 2 mins, then remove from the heat and squish the tomatoes with a spoon.
Step 5 Stir the cooked, crumbly sausage meat and bacon through two thirds of the sauce and divide between the lasagne sheets, rolling each up into a tube. Place in an oiled oven dish.
Step 6 Combine the tomatoes with the remaining sauce and spoon over the tubes, and finally top with the slices of mozzarella and sprinkle over the Parmesan.
Step 7 Bake in the oven for 20 mins until the top is golden brown.