2 packs prime pork sausages (any from our range will do)
Regular price
£0.00
Sale price
£5.50
Unit price
per
200g chestnut mushrooms, sliced
1 tbsp Worcestershire sauce
Dinner
SAUSAGES IN A DEVILLED MUSHROOM SAUCE
Despite it's name these Sausages in a Devilled Mushroom Sauce won't blow your socks off! Instead the basis for this recipe is a cross between a classic Steak Diane sauce and Devilled Kidneys but with the omission of the onion or shallot and obviously using sausages instead of kidneys. The resulting sauce is the perfect complement to any of our sausages (or pork chops and joints).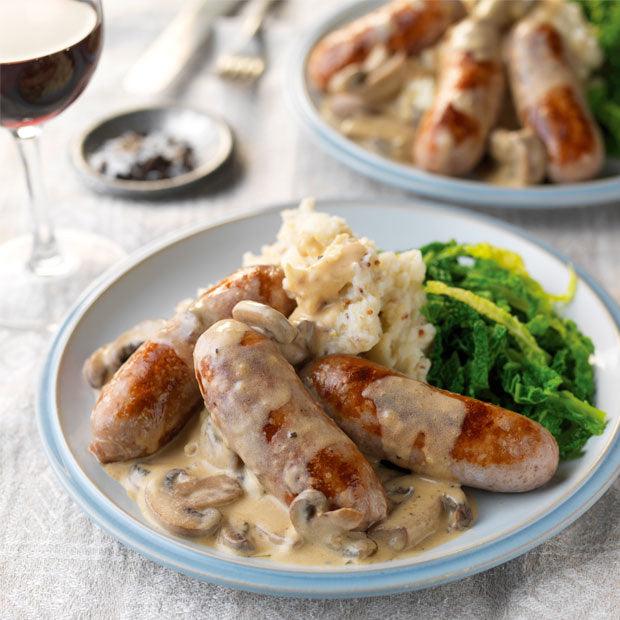 Directions
Step 1 Pre-heat the oven to 200'C/180'C fan.
Step 2 Place the sausages on a lined baking tray and bake in the oven for 15-20 minutes until cooked through.
Step 3 Melt the butter in the pan and when starting to froth add the mushrooms and sauté for 5 mins. Then add the flour and cayenne pepper, stirring for 2 mins. Slowly stir in beef stock and cream, whisking all the time. Add Worcestershire sauce and Dijon mustard and bring to a simmer until sauce starts to thicken, approximately 5 mins. Add the sea salt and pepper according to taste.
Step 4 Serve the sausages on a bed of egg noodles or mash, pour over the sauce and sprinkle with the parsley. Serve with a green veg.