100g DukesHill Smoked Eel
Regular price
£0.00
Sale price
£9.95
Unit price
per
Starter
SMOKED EEL, BEETROOT & APPLE WITH TARRAGON HORSERADISH CREAM
This is a fabulous starter or light lunch dish. I've played around with countless variations of our superlative smoked eel and this is one of my favourites. The combination of the acidic apple, sweetness of the beetroot, balsamic dressing and mousse like tarragon horseradish cream paired with the eel is wonderful.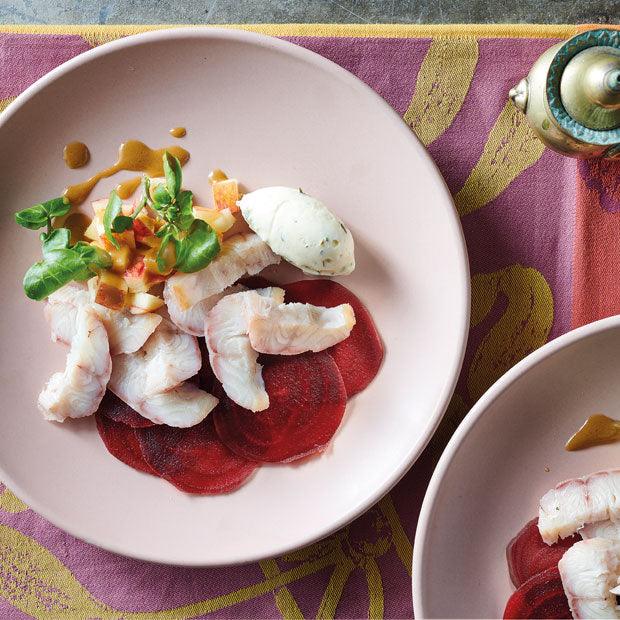 Directions
Step 1 Simmer the beetroot in salted water for 30-40 mins or until tender. Cool in the pan and then rub off the skin while still warm. Set aside in the fridge.
Step 2 Remove the smoked eel from the fridge 30 mins before using to allow to come to room temperature. Slice thinly, approx. 3mm thin slices.
Step 3 Peel, core and dice the apple into 1cm cubes. Toss in the lime juice.
Step 4 For the dressing mix all the ingredients together until combined.
Step 5 Whisk the cream being careful not to over whisk. You are looking for ribbons in the cream rather than peaks. Then gently fold in the tarragon and horseradish.
Step 6 If grilling place the foil wrapped fillets on a baking tray. Grill for 1 minute, or until the butter melts, soaking the spices into the warm fish. If bbq'ing then pop on the BBQ for 1 minute.
Step 7 Slice the beetroot thinly and interleave with the smoked eel on a plate. Sprinkle the diced apple around and finally place a spoonful (or quenelle) of the tarragon horseradish cream on the side.