200g DukesHill Smoked Salmon
Regular price
£0.00
Sale price
£12.95
Unit price
per
90g Cream Cheese (ideally full-fat)
Bunch of herbs of your choice, we would recommend Dill or Flat Parsley
Canape
TWICE BAKED SMOKED SALMON SOUFFLÉS
If you're in need of some inspiration for festive starters, then look no further than these Twice Baked Smoked Salmon Soufflés – and don't worry, they really are much more simple than they sound!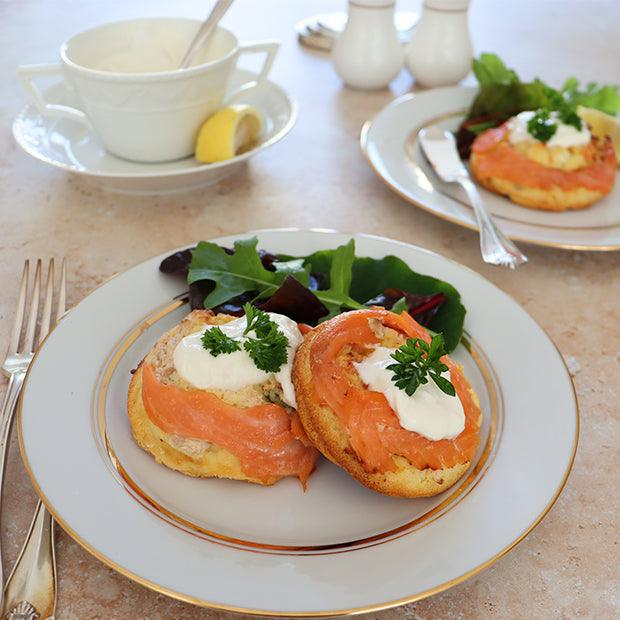 Directions
Step 1 To begin with, we're going to make a white sauce. In a saucepan melt the butter over a low heat. Add in the flour and stir continuously until a roux (or paste) forms. Continue cooking for 2 minutes.
Step 2 Very gradually add in the milk, stirring continuously to form a thick, lump-free sauce.
Step 3 Remove from the heat and leave to cool.
Step 4 In a bowl, separate the egg whites from the yolks. Whisk the egg whites until stiff white peaks form (as though you were making meringues).
Step 5 Add the egg yolks and cream cheese into the white sauce, stirring until combined. It's important to make sure that the sauce is not hot before adding the yolks otherwise they risk being scrambled!
Step 6 Take 75g of the smoked salmon and cut into small pieces (2cm x 2cm). Add the salmon into the sauce alongside the chopped herbs and salt and pepper to taste.
Step 7 Very gently and a little at a time, fold the egg whites into the sauce, taking care to keep as much air in the mixture as possible.
Step 8 Divide the mixture equally into well greased or non-stick ramekins.
Step 9 Put the ramekins into a baking tray and carefully pour boiling water into the tray (about half way up the ramekins), creating a bain-marie.
Step 10 Carefully put into the oven and cook for 20 minutes at 180C fan until risen and golden on top.
Step 11 Remove from the oven and once cool, carefully remove from the ramekins. Do not worry if they sink!
Step 12 Slice the remaining salmon into strips to fit around the soufflés.
Step 13 Spread a little horseradish along one side of the salmon strips and wrap them around the soufflés.
Step 14 Once ready to serve, pop the soufflés onto a baking sheet and return to the oven for 5 minutes until they puff up again. Serve straight away with a dollop of crème fraiche and a lemon wedge.