DukesHill Turkey leftovers (chicken will also work well)
Regular price
£0.00
Sale price
£28.00
Unit price
per
2 Oranges (juice and zest)
Lunch
WARM TURKEY, ORANGE AND PECAN WINTER SALAD
Amongst all the decadent and rich Christmas food, it is sometimes a welcome change to incorporate something a little more fresh and light. This warm turkey salad is a perfect way to use up leftover turkey after the big day, or you can also try it with chicken, using up leftovers from a Sunday Roast!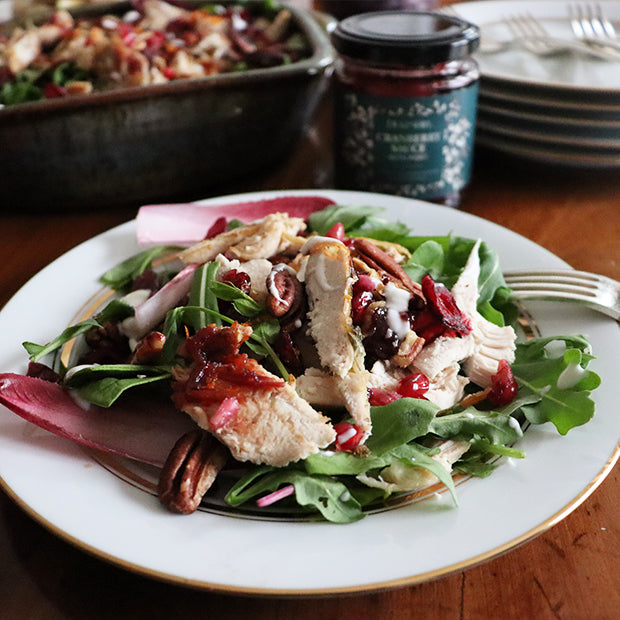 Directions
Step 1 Begin by chopping up a shallot and gently frying on a low heat with a tablespoon of olive oil.
Step 2 Carve the leftover turkey into bite size pieces and add into the pan, along with the pecans. Toss around in the pan and leave for a few minutes on a medium heat until the meat is warm and the pecans are toasted.
Step 3 Whilst this is cooking, it's time to prepare the leaves. Wash the rocket and chicory and add into your serving bowl.
Step 4 Remove the turkey and pecans from the pan and add into the salad.
Step 5 Using the same pan and its flavoursome juices, squeeze in the juice from the two oranges and the zest from the two oranges. Add the white wine vinegar and honey and heat until the sauce begins to condense and caramelise.
Step 6 Drizzle the sauce over the turkey and the salad. Sprinkle the pomegranate seeds over the top and tuck in!