4 skin on DukesHill Chicken Thighs (or 2 chicken legs)
Regular price
£0.00
Sale price
£7.95
Unit price
per
freshly ground black pepper
8 spring onions, chopped into 1" pieces
3 garlic cloves, chopped finely
2 carrots, chopped into 1" chunks
10g fresh tarragon, leaves only
Dinner
CHICKEN WITH TARRAGON
Sometimes the simple things in life give us the most pleasure and this casserole dish is a classic example of that. Gently flavoured with tarragon, the chicken is cooked until beautifully tender.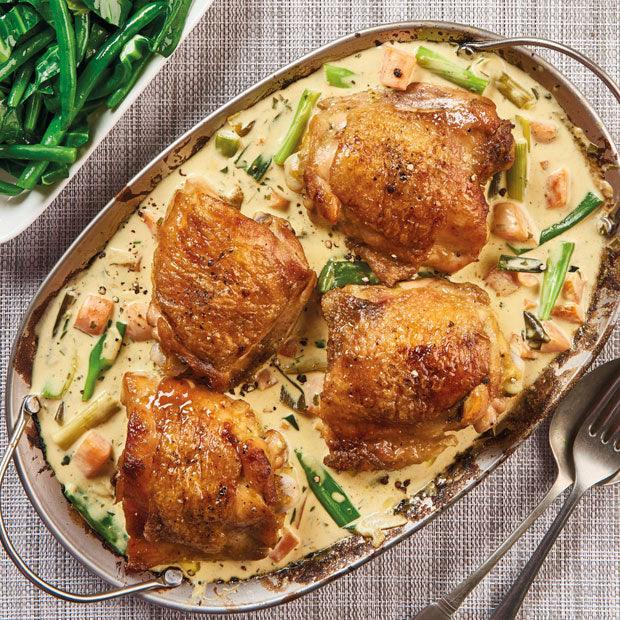 Directions
Step 1 Pre heat oven to 180°C/160°C fan/gas mark 4.
Step 2 Heat 2 tbsp olive oil in a casserole dish over a medium to high heat. Season the chicken and brown in the dish for 10 mins until browned all over. Transfer to a plate.
Step 3 Add the remaining 1 tbsp oil to the casserole dish and turn the heat down to a low to medium heat. Add the spring onions, carrots and garlic to the dish and gently sauté for 5 minutes.
Step 4 Add the mustard, tarragon and stock and gently stir. Bring to a gentle simmer before stirring through the crème frâiche.
Step 5 Return the chicken to the dish and push down so the chicken is mostly covered. Transfer to the oven uncovered for 50 mins – 1 hour until the chicken is browned, comes away from the bone easily and the liquid has reduced a little.
Step 6 Season to taste and serve with creamy mashed potato and green veg.