180g pack of DukesHill Smoked Mackerel Fillets
Regular price
£0.00
Sale price
£5.95
Unit price
per
1 tin of chopped tomatoes
Fresh Basil for garnishing
150g Linguine (or 220g if using fresh)
Lunch
MEDITERRANEAN STYLE MACKEREL LINGUINE
This quick and easy Mediterranean style dish is packed full of bold flavour and essential fatty acids thanks to the delicious mackerel. Enjoy al fresco with a glass of white wine with a good level of acidity to cut through the oiliness of the fish.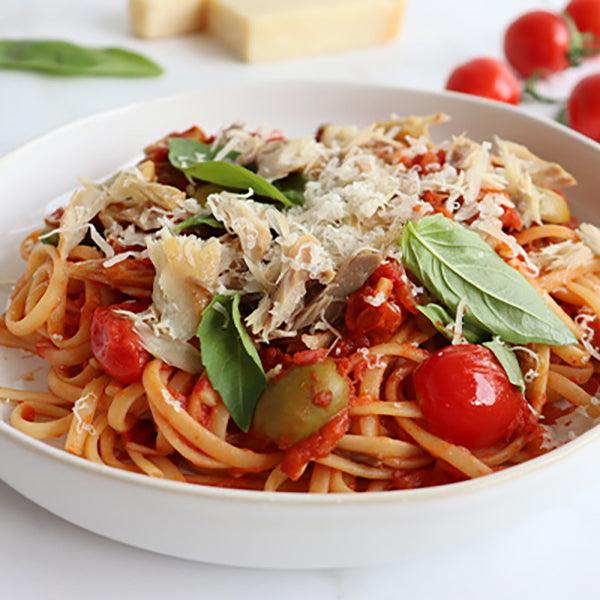 Directions
Step 1 Begin by bringing a pot of well salted water to the boil. If you've chosen dry linguine, pop this into the pan now as this will take the longest time.
Step 2 Chop the onion and garlic finely and pop into a frying pan on a gentle heat with a good glug of olive oil. Sautee for a few minutes until soft. Add in the tin of tomatoes and simmer on a low heat for 10 minutes, stirring occasionally.
Step 3 Meanwhile, if using fresh pasta, bring a pot of well salted water to the boil and follow the instructions on pack to cook your pasta.
Step 4 Chop the olives and vine tomatoes in half and add these into the sauce. Leave for a couple of minutes before taking off the heat. Add in the lemon zest.
Step 5 Transfer the cooked pasta, along with a good slosh of the starchy pasta water into the pan with the sauce. Stir and flake the mackerel in.
Step 6 Serve immediately and garnish with some basil for flavour and colour and Enjoy!