1kg DukesHill's Oxtail
Regular price
£0.00
Sale price
£18.00
Unit price
per
4 carrots, finely chopped
2 celery sticks, finely chopped
4 anchovy fillets, roughly chopped
2 sprigs of fresh rosemary
Puddings
OXTAIL RAGU
This dish is beautifully rich, and the oxtail just melts in the mouth. The perfect evening meal paired with a delicious glass of red wine and pappardelle.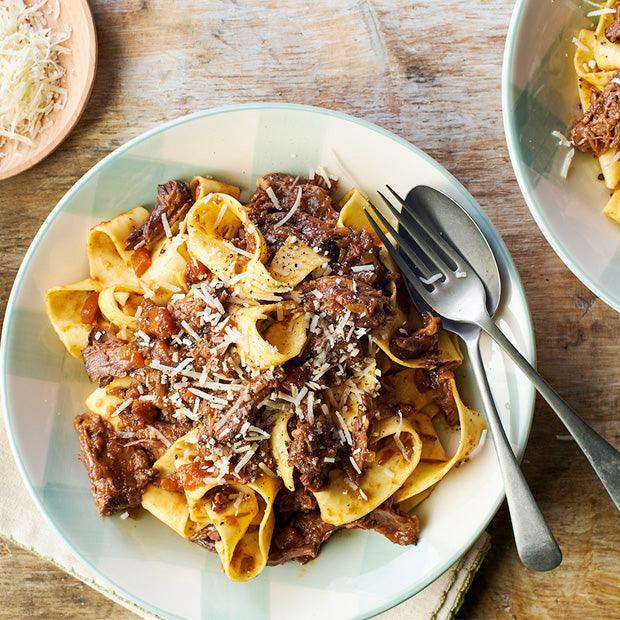 Directions
Step 1 Preheat oven to 160 fan.
Step 2 First brown the oxtail on all sides in a deep casserole dish. Once browned, removed from dish and leave to one side.
Step 3 In the same casserole dish add the olive oil and butter until melted, on a medium/low heat.
Step 4 Add the onions, carrots and celery. Cook and stir frequently until softened..
Step 5 Blend until smooth.
Step 6 In a bowl whisk together the cream cheese, sugar, apricot puree and gelatine (prepare the gelatine with a dash of boiling water to dissolve).
Step 7 Add the garlic and bay leaves and cook for 5 minutes before adding the anchovy and tomato purée.
Step 8 Cook for 2 minutes or until the anchovy has melted into the rest of the ingredients.
Step 9 Add the rosemary and wine and bring to the boil. Once most of the alcohol has cooked off, add the beef stock and put the oxtail and all its juices back into the pan.
Step 10 Cover with a lid and put in the oven for 3.5 hrs, turning the heat down to 140 fan after 1 hr.
Step 11 Strip the meat off the bone using forks and the meat should fall off easily.
Step 12 Serve on a bed of pasta, preferably pappardelle as the ragu will cling to this the best. Sprinkle some parmesan on top.