800g Dukeshill Sausages (2 packs)
Regular price
£0.00
Sale price
£5.50
Unit price
per
250g Dukeshill black pudding, skinned and diced
Regular price
£0.00
Sale price
£5.50
Unit price
per
900g Potatoes, peeled and thinly sliced
1 small butternut squash, peeled and diced
15g fresh thyme, leaves only
100g Cheddar cheese (or other hard cheese), grated
Dinner
SAUSAGE & BLACK PUDDING HOTPOT
Comfort food at it's best, this hotpot can be made with any of the sausages from our range and with any of the hard cheeses too. Here I've used cheddar but Comte would be equally good. The addition of the black pudding adds to the richness. Our black pudding is made using fresh blood. Don't be tempted to use one using dried blood as is more often than not the case, it just won't be as good.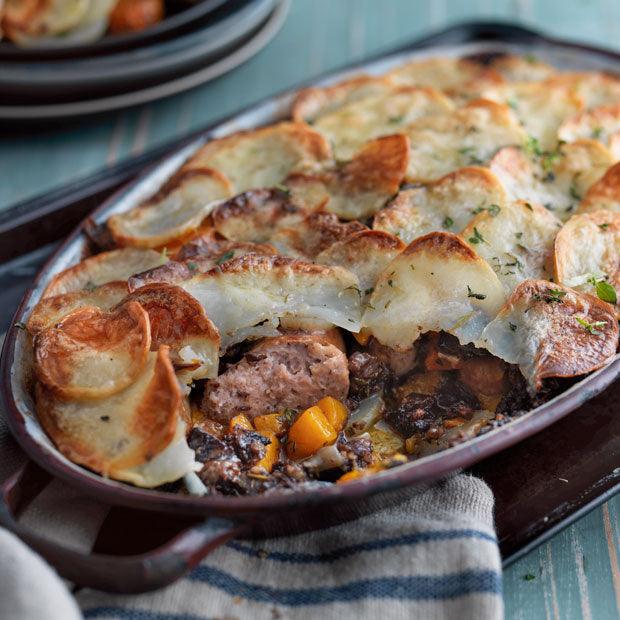 Directions
Step 1 Pre heat oven to 180°C/ 160°C fan
Step 2 Cook potatoes in pan of boiling water for a few minutes until just beginning to soften. Drain and refresh under cold running water.
Step 3 Oven bake the sausages at 180'C/ 160'C fan for 15-20 minutes until browned.
Step 4 Heat the butter in a large pan over a gentle heat and sauté the onions and butternut squash until golden.
Step 5 Sprinkle over the flour and allow to cook for a minute before adding the stock, herbs and seasoning.
Step 6 Allow to gently simmer for a few minutes until thickened slightly. Remove from heat.
Step 7 Place the sausages and black pudding in a buttered ovenproof dish and top with the onion and butternut squash mixture.
Step 8 Arrange the sliced potatoes on top, season, dot with the butter and sprinkle the grated cheese over the top.
Step 9 Cover with foil and cook for 40 minutes, then remove the foil and return to the oven for a further 30 minutes until golden and browned.
Step 10 Serve with seasonal vegetables.