200g Tomme fraîche du Cantal (Comté can be substituted), diced into 1cm pieces
Regular price
£0.00
Sale price
£9.50
Unit price
per
500g Maris Piper potatoes
1 tablespoon duck or goose fat
Lunch
TRUFFADE
On our recent trip to France (blog post "Dukeshill Tour de France") we discovered Truffade, a hearty potato dish and a classic Auvergne speciality. It is made using Tomme Fraîche, which is a Cantal cheese from the Auvergne. As Tomme Fraîche is not readily available back here in the UK our Comté cheese makes a good substitute. Absolutely delicious when served alongside some slices of Dukeshill Ham; or our Charcuterie Meats; our Pork Confit; Duck Confit; Sausages; Pork Chops; the list is endless!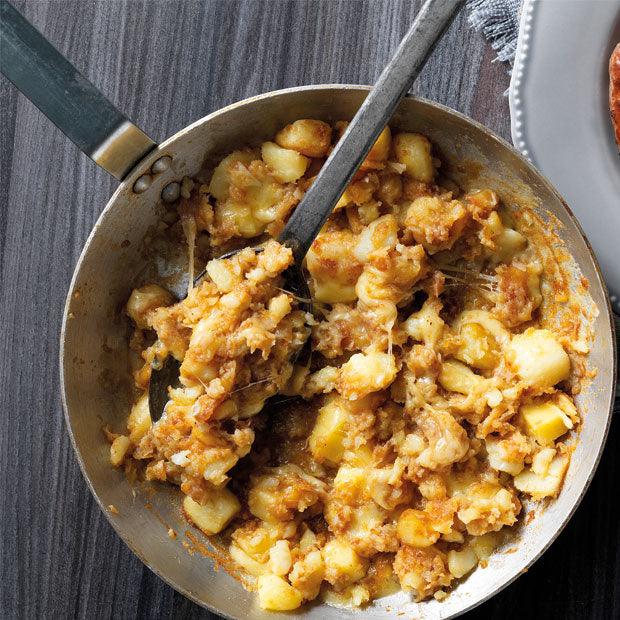 Directions
Step 1 Peel the potatoes and cut them into 2cm cubes. Melt the duck fat in a non stick pan.
Step 2 Add the potatoes and season with salt and pepper. Sauté until golden brown over a low to medium heat, around 25 minutes, stirring from time to time to avoid sticking. For the last few minutes add the garlic.
Step 3 Once the potatoes are cooked, remove them from the heat and crush them with a fork. Add the cheese, stirring constantly until you get a mixture in which the potatoes are no longer distinguishable from the melted cheese.
Step 4 Serve immediately with one of the suggested accompaniments above and a salad or veg.