200g bacon, chopped
Regular price
£0.00
Sale price
£7.50
Unit price
per
2 echallion shallots (or I onion), peeled and finely chopped
3 sticks celery, finely chopped
180g chestnuts, finely chopped
4 thyme sprigs, leaves only
200ml reserved pasta cooking water
freshly ground black pepper
30g Parmesan, finely grated
Dinner
BACON & CHESTNUT PENNE
My Bacon & Chestnut Pasta dish is so easy to throw together for a quick supper. The sweetness of the chestnuts marries so well with the saltiness of our dry cured bacon in this delicate and creamy sauce.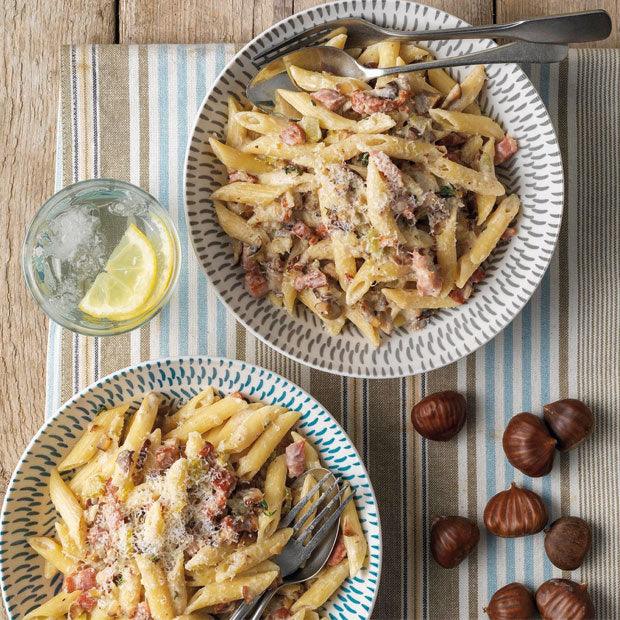 Directions
Step 1 Start by heating a heavy based pan over a high heat and dry frying the bacon until golden brown for approximately 5 minutes, stirring during cooking to ensure all sides cook evenly.
Step 2 Reduce the heat to medium and add the shallot and celery. Cook for a further 5 minutes before adding the crushed garlic, thyme and chestnuts. Cook for a further 3 minutes.
Step 3 Meanwhile cook the pasta according to the instructions on the pack. Drain reserving 200ml of the cooking water.
Step 4 Stir the crème fraîche into the cooking water and add to the bacon and chestnut mixture. Add seasoning to taste.
Step 5 Stir through and serve with some grated Parmesan.