1.75 kg rolled shoulder of pork
1 tsp fennel seeds, crushed
1 tsp crushed chilli flakes
freshly ground black pepper
4 cloves garlic, finely chopped
20g fresh parsley, chopped finely
2 tsp fresh rosemary leaves, chopped
12 echalion shallots, peeled and halved
Dinner
HERBY ROAST PORK
This Herby Roast Pork is a lovely way to cook our rolled shoulder of pork. The use of lots of herbs, spices and shallots gives a boost to the overall flavour and results in a delicious gravy.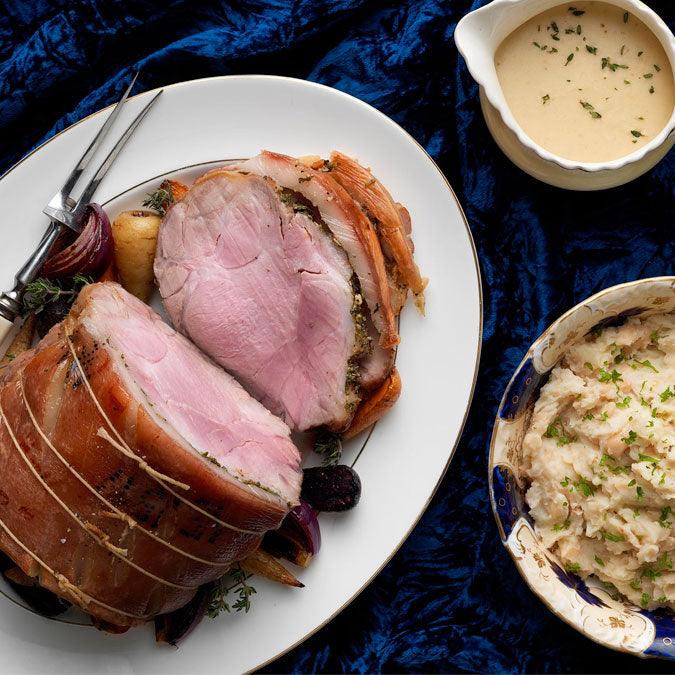 Directions
Step 1 Remove the meat from its packaging the day before to allow the skin to dry out. Remove from the fridge two hours before cooking. Pre-heat the oven to 250'C/230'C fan/gas mark 9.
Step 2 Place the meat on a chopping board and remove the skin, keeping to one side.
Step 3 In a small bowl mix the lemon zest, garlic, crushed fennel seeds, chilli flakes, seasoning, parsley, rosemary and thyme with 2 tbsp oil and mix to a paste.
Step 4 Spread this mixture on the meat and pop the skin back on top. Re-tie with string to keep the skin in place.
Step 5 Place the shallots in a roasting tin, place the pork on top and drizzle the remaining 3 tbsp oil over. Sprinkle the pork with the remaining 1 tsp sea salt.
Step 6 Roast the pork for 35 minutes, until the crackling is golden and bubbled. Reduce the heat to 180'C/160'C fan/gas mark 4 and cook for a further 90 minutes or until cooked to your liking. Remove from the oven, cover with foil and allow to rest for 15 mins before carving.
Step 7 Meanwhile make a gravy using the juices in the tin with 1 tbsp flour and 200ml white wine. Serve with roasted vegetables and cannellini bean mash.